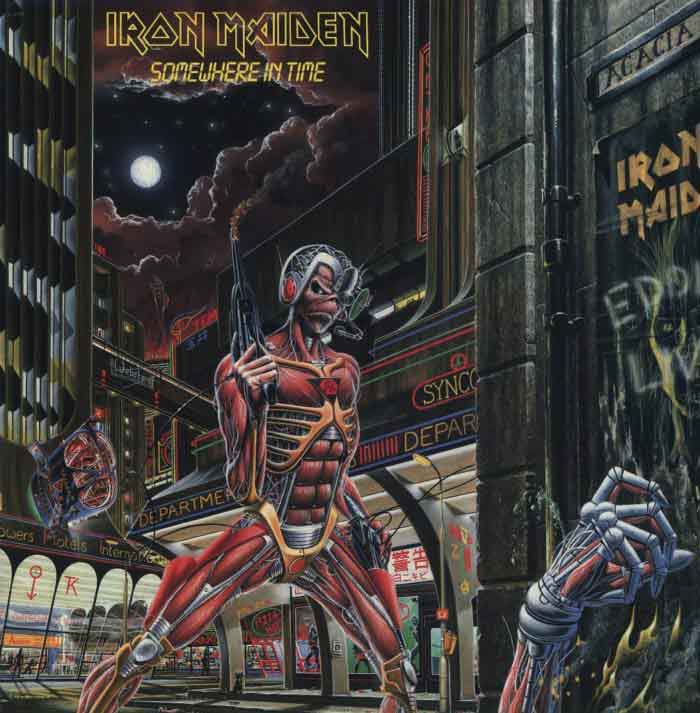 Article by David Rosales.
Released after Iron Maiden's golden era, Somewhere in Time is touted by fans of heavy and power metal as a crown jewel of the band, exemplifying perfected expression and streamlined efficiency. This is not immediately convincing for metal hessians. Rightly so as the music became more sterile, hence, less credible. There is definitely a sense of "upgradedness" in both the production and the choice of stylistic voicings, allowing an inclusion of 80s pop coloration into the palette. This unclear, semi-sellout move demanded accountability, while at the same time the band boasted of accumulated experience fructifying the transformation, masterfully avoiding the typical degeneration that could be expected after the climax and summary of their original sound in 1985's Live After Death.
Although the album is not part of what we consider the underground of metal, it is not without its redeeming qualities. The contributions individual instruments make to the whole are more focused than ever before or after. This goes for the voice as an instrument as well. As paradoxical as it may seem, this evidently more mainstream album depends less on the vocal theatrics of Bruce Dickinson than the prior ones. Iron Maiden's characteristic guitar mannerisms are focused into themes rather than riffs, which were never strong in Iron Maiden's work.
This purposeful though perhaps unnecessary trade off had game-changing consequences. Chord-and-melody composition is easier to control than more counterpoint-oriented methods. This may have been a prudent measure to ensure the stability of exploitable components in the music. The drums are understated but tastefully functional, providing basic needs while staying aloof from immature bragging. The creative, moving bass of Steve Harris is still the heart of the music and never tires; the whole of the instrumentation seems to have been wound around it so that the rhythms, hooks, and simple but iconic melodic harmonizations strengthened at the same time as the foundations  narrowed.
On the down side, Somewhere in Time lacks the depth of expression we find in Angel Witch's eponymous LP, whose technical variability, use of silence and phrasal darkness with a solid backbone is approached by Iron Maiden only in certain moments, e.g. "Where Eagles Dare" and "Phantom of the Opera". Following this lead, we seem to not only discover the weaknesses of Somewhere in Time alone but of the band's overall songwriting. Maiden never found themselves at home in their earlier period characterized by a certain proximity to the raw, doomy NWOBHM sound. At first appears to reveal a weakness is in reality a deliberate move by self-aware artists playing to their strengths and discarding the areas where they lagged behind their peers.
What stares us in the face is an album that appeals to musicians and writers of music in particular. The timing for phrasings for maximum effect, subtle use of harmony to emphasize switches and transitions, percussive perfection, and an all-round superlative competence in musicianship in the service of a final product gives us Iron Maiden's most professional contribution to the metal canon. The issue of intentionality nonetheless remains a crucial aspect for those of us looking beyond the dopamine kick that results from unprocessed impressions that activate the amygdala. In this case, Iron Maiden proved unable to adequately impart the gravitas of authentic metal strongly enough even though the lyrical themes make that a necessity. Almost every mainstream metal album can be accused of this by no means insignificant blunder. Despite that, Somewhere in Time is somewhat counter-intuitively, a gem hidden in the mainstream.
Tags: 1986, Heavy Metal, iron maiden, mainstream metal, NWOBHM, progressive metal, review, somewhere in time