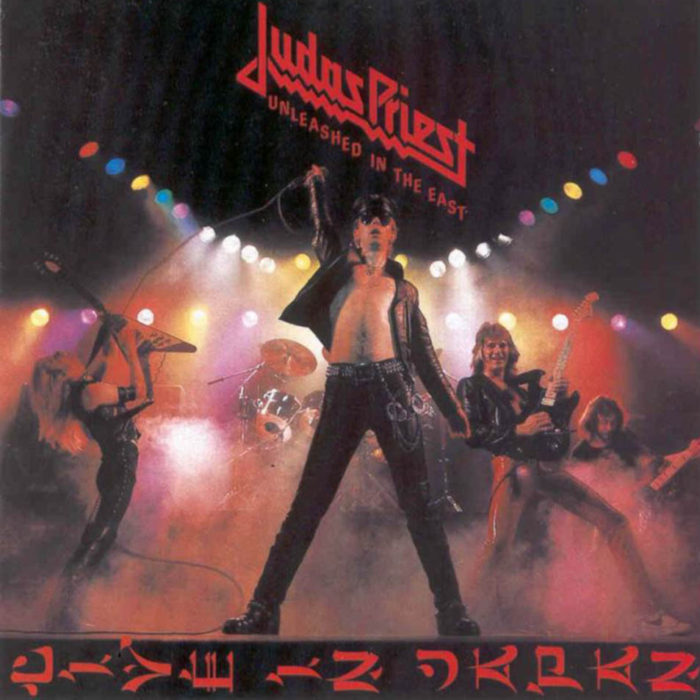 Article contributed to Death Metal Underground by George Psalmanazer.
Judas Priest started life as just another Led Zeppelin influenced band in the early 1970s. Quickly they became massively influenced by Black Sabbath and especially Thin Lizzy. Priest adapting the counterpointed riffing and harmonzied melodic guitar leads of Thin Lizzy into a mixture of progressive rock and the then new heavy metal of Black Sabbath but with operatic vocals instead of Ozzy "singing" the riff through his nose kicked off the New Wave of British Heavy Metal in the late 1970s.
Priest's riffs remained mostly static like most NWOBHM bands. Mostly the leads were what progressed in songs structured around a few riffs alternating in an almost verse-chorus-verse fashion. Compositions eventually progressed towards climatic solos or the riffs shifting up an octave or modulating into a "triumphant" major scale as would become common later in power metal and those influenced by it such as Sacramentum and Arghoslent. The excellence of the riffs and leads overcomes all the limits of riff rock song structures.
Judas Priest were not held back by song structure but rather their desire to be rock stars on the radio. Their sublime heavy metal songs were placed in albums jam fulled of everything from covers to prog rock to arena pandering to attempt to appeal to everyone who could possibly snatch it off a record store shelf. "Beyond the Realms of Death" off of Stained Class infamously shares a riff with Bad Company's "Feel Like Making Love" with a new fill at the end. Eventually Judas Priest fully sold out to an MTV audience on British Steel.
The albums were arranged like 1960s rock with a few "hits" and a ton of filler to pad them out. They also mostly suffered from tame performances and poor, flat production like the studio material of so many other bands. This meant that the best way to experience Priest and many other NWOBHM bands' music in a complete artistic package was to see them live. The band would play the "hits" (nobody actually had hit singles as metal wasn't played on popular radio) and shelve the filler, save a couple from whatever the latest record was that they were touring behind to shill for the label. Live albums (Witchfinder General – Live '83) and sometimes demo anthologies (Angel Witch – Sinister History) are testament to this.
Unleashed in the East consists of instrumental tracks from early 1979 live shows in Tokyo with later studio vocals from Rob Halford pasted on top. This is readily apparent from the different, excessive artificial reverb they have. All songs are from the early part of Priest's career and much faster, energetic, and looser than the lamer album versions with their oft-awful guitar tones. Halford's "live" vocals are closer to heavy metal snarls and air raid sirens than the Robert Plant like wailing.
The only real criticism of the album is the pacing with regards to track order. The first set of four songs from "Exciter" (Stained Class) to "The Ripper" (Sad Wings of Destiny) are excellent heavy metal compositions. The next tracks, " The Green Manalishi (With the Two-Pronged Crown)" and "Diamonds and Rust", are energetic, metallicized pre-Stevie Nicks Fleetwood Mac and Joan Baez covers well-suited for a live set. Then Judas Priest Judas Priest subjects their audience to two, seven-minute long progressive rock songs from Sad Wings of Destiny: "Victim of Changes"and "Genocide". While compositionally adequate with decent riffs and by no means bad, these two songs stop the rush of the record which was already slagging a bit on "Diamonds and Rust". Thankfully Priest close out with the profound, proto speed metal of "Tyrant", which was a huge influence upon Slayer.
Despite this pacing issue, Unleashed in the East is the most effective way to experience Judas Priest's quality early material before their MTV days. It is also one of the only metal "live" albums worth a damn. Most commercially-released live recordings are cash-in releases shit out by labels to take your money with another shelf-turd to occupy and steal space in the same way that Coors Light comes in ten different forms of packaging in every super market. Unleashed in the East is no shelf-turd.
Tags: 1979, Heavy Metal, judas priest, live, NWOBHM, progressive rock, review, Unleashed in the East