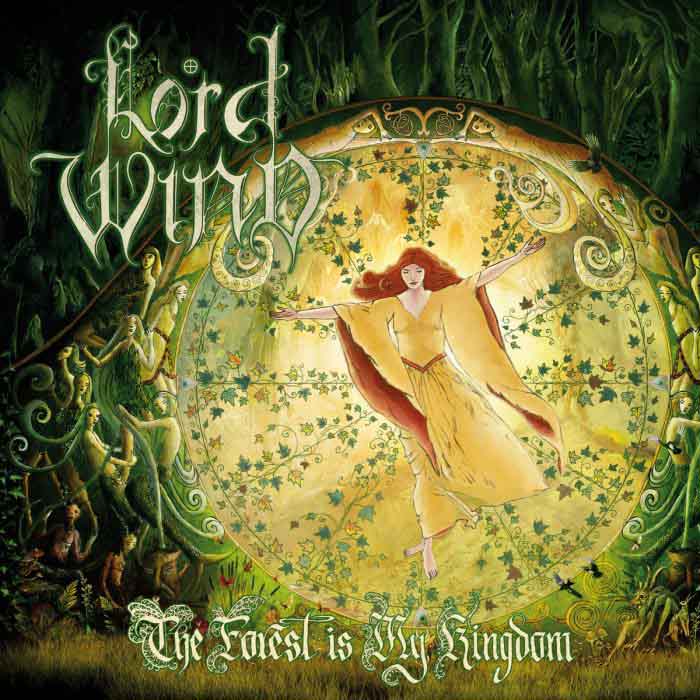 The case of Rob Darken is a symptomatic one. He is undeniably the most important (and enduring!) metal musician from Poland and Eastern Europe in history. And yet, when black metal or folk is concerned, even on his own soil he is overlooked in favor of others, like Behemoth or Percival Schuttenbach respectively, solely on basis of some external attributes of their music. It seems that for some time now Darken is trying to gain at least a bit of the recognition he deserves: the exposure in Nergal's biography, playing live with both Graveland and Lord Wind, and now the changes in the very formula of Lord Wind on The Forest Is My Kingdom.
The other issue touched in the new release is that the previous music of Lord Wind probably couldn't ever be acknowledged by those who consider folk in a more academic or ethnographic terms. While some folk musicians are well versed in historic sources and can play old music by the book, Darken, clearly one of the men against time, practically reinvented ancient and medieval spirit on his own into a style which is probably mostly made up, but managed to perfectly capture what was essential, and left out what was merely temporal in the music of our ancestors.
On The Forest Is My Kingdom this substance is eventually diminished, despite of increased instrumental prowess, stylistic veracity and collective songwriting, as each of them came with a price. By pursuing more authentic, verifiable style, it partially moved away from the idealized, universal Indo-European music into rustic, yet rather particular East Slavic one which, quite frankly, already may sound exotic even for a Polish listener.
The most obvious new addition by far is the inclusion of female vocals which, unsurprisingly, assumed the main role in most of the songs in which they are present. Instead of being just vocalises performed by an actual singers, often they are primarily focused around the lyrics, and in such instances they are a detriment; a trivializing element which converts Lord Wind's monumental pieces into a mere songs, and imposes composing with the backdrop in mind. Also, in the context of this particular music, its potential and supposed goals they simply fail to connect, and one must ask what was their purpose, besides perhaps making it more accessible for a casual listener.
On a more positive note, this opening of a new era of Lord Wind is marked by greater instrumental flexibility and a subtlety in execution. The music is fresh, dynamic and abundant in tempo changes. Unexpected additions and finishing touches in Darken's phrasing are much welcomed and provide interesting prospects for developement in the potential Graveland albums. Due to the input of other musicians, the compositions are rich and the polyphony is livelier than ever before. However, regardless of value of their individual contributions and performances, this also appears as a step back due to thier very presence, as the whole would benefit more from being a focused vision rather than a less condensed framework with stretches of lesser significance provided so as everyone can have something to do.
Making all those efforts to elevate Lord Wind to the industry standards of Wardruna and the likes is understandable and perhaps simply needed at this point in career. Professional and well adjusted for live shows, those popular acts are perceived as paragons of this type of music, but it's worth to remember that in the most important aspects, even with much humbler means Darken was still far more accurate than any of them thanks to his genuine access to the sphere of cultural intangibles. The "real" instruments and the ability to perform before the audience are nice features, but they weren't necessary for Lord Wind's previous releases (nor for the majority of 90s black metal, for that matter) to evoke something truly unique in our day and age.
Similarily to the last release by Summoning, to which Graveland was compared throughout the years due to its consistency and longevity, Forest Is My Kingdom is a somewhat unremarkable album made by a brilliant musician who is once again trying to develop, one step at a time, particular aspects of his art. It is still a worthy listen and there are some fine moments, especially at the beginning, but as the album proceed they are gradually dragged down due to the demands of an adopted format. For now, Darken's more underground and personal works still remain his best and this album may yet prove to be merely a transitional one. In searching for more appropriate ways of expression, he has moved away from the previous golden mean, and while this new approach undoubtedly have its merits, it must be refined and applied in a better manner to be an actual improvement. Darken will figure it out.