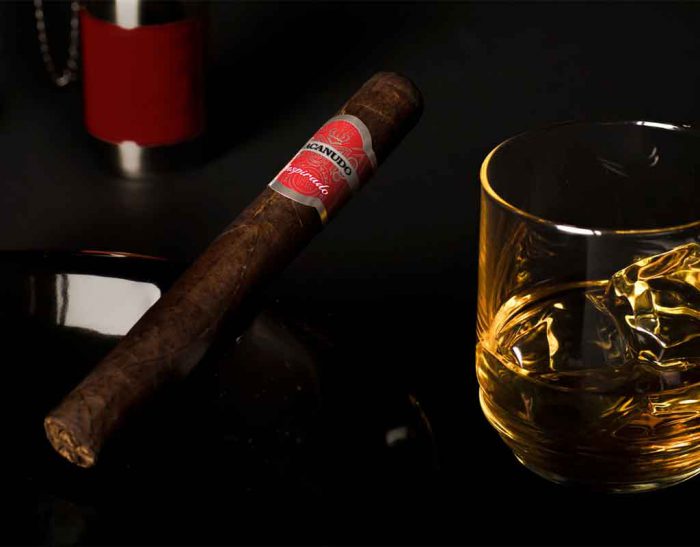 Macanudo cigars were mysterious and expensive to the Greatest Generation, sought after by Boomers, and for the rest of us, now appear in grocery stores in sealed packs in addition to showing up everywhere else. At this point, they seem more a starter cigar, middle-of-the-road vanilla flavor and low strength.
In 2014, however, the company vowed to change that with the Inspirado line, which features full strength cigars with massive flavor, but nonethless aim for the middle-of-the-road causal smoker: they have all of what you would expect from a high-end cigar, but in a very straightforward package.
Inspirado : Red comes on with a strong chocolatey flavor in which the fermented taste of the cigar leaf emerges like Perique, a faint fruity or spicy flavor, enhanced by the Ecuadorian Habano wrapper which gives it a smoky, almost liquor-like flavor.
These burn well, smoke easily (about four hours), and provide enough nicotine to be just under the far side of full strength but without disappointing those who want to get whomped by their smoke enough that they rediscover the Buddhism they abandoned in sophomore year of college for a girl named Sara.
While the aspects that cigar snobs sneer at are still present — this aims to be an uncontroversial, plain, and enjoyable smoke without the quirks and excessive that make good pub chatter — these Inspirado : Red sticks are good enough that many of those same people will reach for one when they need a transparent smoke and their hipster friends are not present.
More information at the Macanudo site.
Tags: cigar, cigar tobacco, inspirado, macanudo