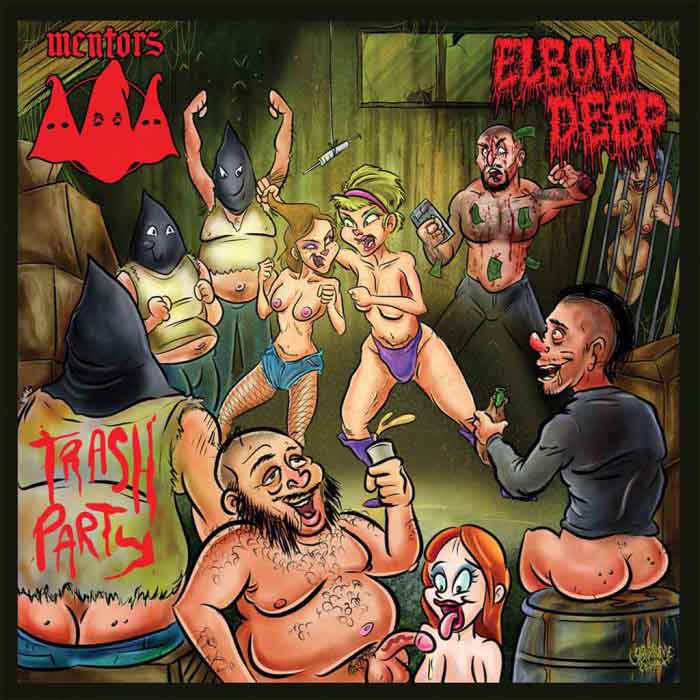 Hanging out on the edge of the thrash genre with MOD and SOD, the Mentors represented the side of thrash that took thematically after punk; most thrash either placed metal riffs in punk songs (Cryptic Slaughter, Suicidal Tendencies, Fearless Iranians From Hell) or punk riffs in metal songs (DRI, Dead Horse) and took after one of the two thematically, but the Mentors kept the party and sleaze side of punk alive.
Elbow Deep fuses modern gore-grind with the technically precise riffing of mid-1990s grindcore, which like thrash before it, adopted a great deal of technique from metal. Its songs operate by establishing straightforward verse-chorus loops and then interrupting them with what at first seems random riffs, but later turns out to be the actual structure of the song, like when a camera moves from a close-up to a wide angle.
The Mentors return sans El Duce with their mix of bluesy rock, punk rock, and NWOBHM rhythms. These funny songs have a great deal more charisma than the Elbow Deep style of the split, but seem positively spacious and normal radio rock in comparison, despite the consummately crass and opportunistic lyrics.
Tags: elbow deep, gore-grind, Grindcore, mentors, Thrash