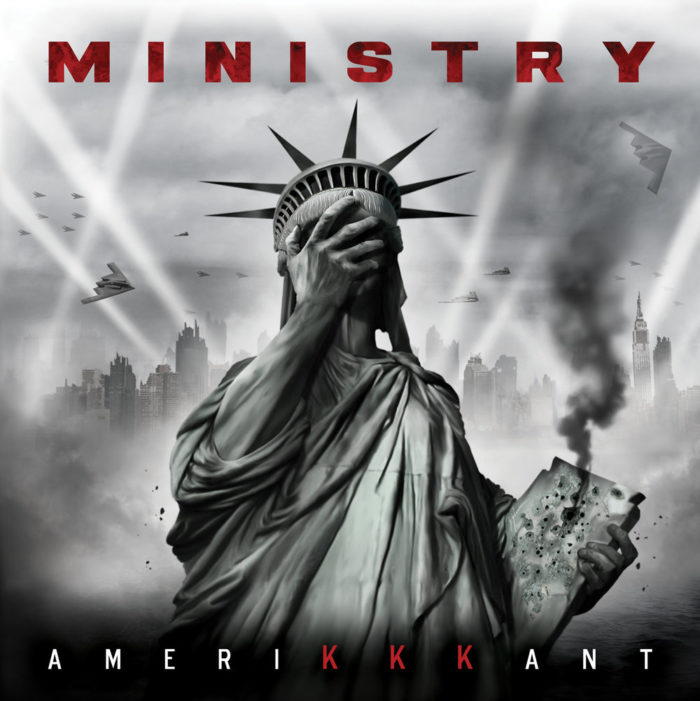 Continuing his existence as a walking anti-drug ad, Cuban/Norwegian musician Al Jourgensen and whoever he has hired this week released "Antifa," a track from the upcoming Ministry album AmeriKKKant on Nuclear Blast Records. In a desperate bid to remain relevant, Jourgensen has adopted a hybrid of Millennial politics and Baby Boomer sanctimony in a move that will alienate his Generation X fanbase.
Antifa, as anyone who has been less drunk than Jourgensen over the past few years knows, is the "anti-fascist" group that has made a name for itself for beating up innocent young girls, looting high-end stores, using Apple iPhones to take selfies in Che Guevara tshirts, and setting trash cans on fire. To endorse Antifa, you have to be Communist, which is not surprising since Antifa originated as a project of the German Communist Party during the 1930s.
Musically, this track completes the transition Ministry began on its last album from a hybrid of industrial, punk, metal, and indie rock into a straight up rhythm band that uses punk riffs and metal solos over nearly invariant percussion while Jourgensen rants through a distortion box, his original vocal chords long ago having been replaced by a synthesizer chip.
The song follows the pop format, with an introduction and verse chorus loop before a fade-out, with a few characteristic Ministry rhythmic breaks. A static chord and chromatic fill comprise the bulk of the riff, which misses the characteristic interesting phrases and interplay with addictive industrial rhythm of classic Ministry, and forces the song to exist in a place without harmony or melodic hooks.
As a result, this song sounds like the microwaved leftovers of a career that ended in lugubrious irrelevance. It would be cruel to say that is what it is, and maybe it will sell a lot of records to the SJWs and other "message people" who buy books and music solely because they would feel guilty for not supporting the message within them. But as music, it rings hollow.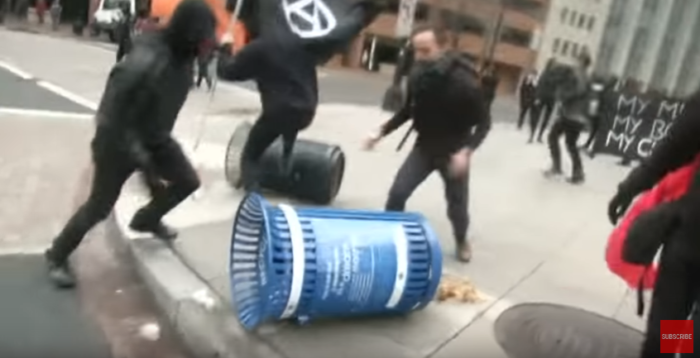 For example, the verses seem breathless in an attempt to cram as many buzzwords as possible into a rhythmic trope, but the cleverness of vocal and lyric interplay is gone. Guitarists have made solos that sound like the practice show-off doodling famous from the lobbies of Guitar Centers worldwide, and the not so much random as off-topic rhythm playing feels like a Garage Band plug-in.
Many of us remember Ministry from their glory days of The Land of Rape and Honey, A Mind Is a Terrible Thing to Taste, and of course their peak, In Case You Didn't Feel Like Showing Up live EP. Maybe this new approach will sell records, but it is far from the time when this band was something you would be proud to have on your CD rack.
It somewhat fades into the background instead. Forget the topic for a moment; what do you hear? More rhythm music with a plaintive complaint in its vocal attitude, and roughly the same song structure and musical approach as everything else on the radio. Drilling down, it sounds like conformity. Perhaps like an Antifa protest, AmeriKKKant will be news for a week and then slip into the memory hole.
Tags: al jourgensen, antifa, heavy music, Industrial, industrial metal, metal, ministry, punk