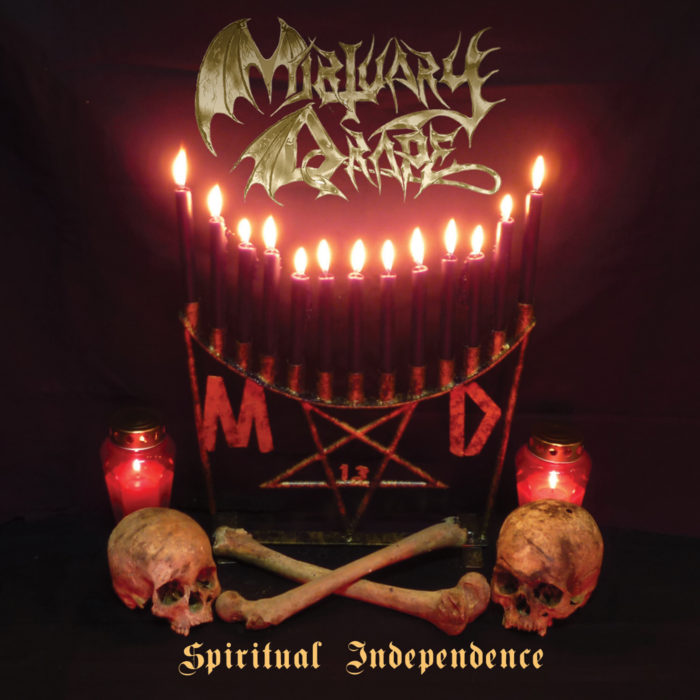 Article by Corey M.
Having enjoyed Mortuary Drape's Tolling 13 Knell for its sadistically grim attitude expressed through pointed, inventive death metal instrumentation, I had some positive expectations for their new effort Spiritual Independence even though Buried in Time did not catch my ear in the same way.

One of the first obviously noticeable changes in the band's style is a further streamlining of the music, made possible by mimicing the pacing of classic-era speed metal bands at their smoothest, often switching between thrashy drums over chunky punk-ish riffs and slower (but not groovy) stretches of ringing chords as the main way of shifting dynamics between segments within songs. A lead guitarist has been added to the line-up since the last album, and his solos are silky smooth while being exciting and fairly original given that each are written in a fairly boxy, speed metal style. Flashy and highly emotional guitar solos in extreme metal are usually either really good (e.g. Don't Break the Oath, Rust in Peace, Sammath – Triumph in Hatred, early Death and Pestilence) or really bad (Carcass – Necroticism), but Mortuary Drape's fall somewhere in the sparsely inhabited wasteland of the middle.

This falls in line with the rest of the band's performance on this album; well-structured, consistent, effective use of non-guitar sounds, never really boring, but never righteously hateful enough to evoke a feeling of true darkness – something like video footage that has been set up to look like a convincingly real catastrophe, but too cleanly-presented and therefore obviously not actual footage of a real catastrophe. Overall this is a satisfying and fun listen, but I would strongly recommend checking out a stream before dedicating to a purchase, especially if this band never tickled your fancy in the first place.
Tags: 2014, Black Metal, Italy, mortuary drape, review, Speed Metal