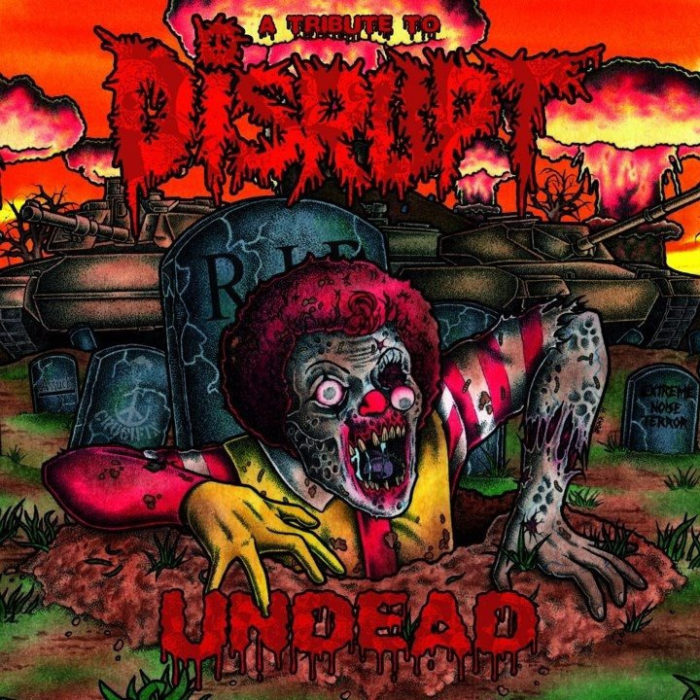 Murder Construct recently released as a single their contribution to the Undead: A Tribute To Disrupt album of cover songs honoring this well-known crust band. While this is a faithful cover, it adds a few layers on top of the original that keep it from becoming boring and inject the personality of Murder Construct into a standard for the post-1980s punk movement.
Drumming is really outstanding and punctual. The drum beats are not straight-forward, but rather sharp and jagged, like a machete. The brief guitar solo at the end with the quick dive-bomb and counter-phrasing adds to the song, and leaves you wanting more solos instead of feeling like the lead guitar was just there for the sake of having to be there. Its also cool that the way the song is revived here gels nicely with the lyrical content, in that not caring what people and keeping it underground sounding are the priorities.
Part of the skill here has been in delivering an underground-sounding production. Guitar tone and vocal texture deliver a gritty sheen to the whole release, and the snare drum timbre creates a piccolo sound that brings back visions of early punk. The overly distorted and squashed guitar tone like an old 90s cassette. Even with a lyric sheet its hard to figure what the vocalist is saying. This adds to the violent chaotic feel of the song.
I have seen their guitarist Leon perform since the mid 90's when he first started with his band which was called Infanticde. They played the basement of the Cupertino Library. He has always had a good sense of super distorted tone and heavy rhythm. Its good to see people like him, who have stayed true to their underground roots, despite having ascended to higher plateaus. I highly recommend this track to others, and look forward to future releases by his band.
Tags: crust, Crust Punk, crustcore, disrupt, murder construct