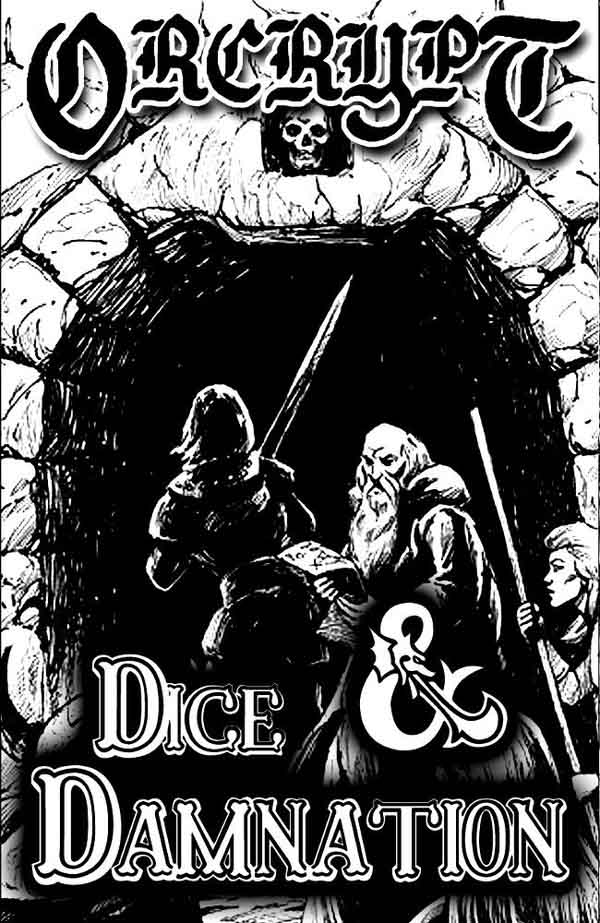 In wait of their sophomore full-length album, premiere Pure Goblin Black Metal (PGBM) band Orcrypt released this demo recording some time ago. Dice and Damnation retains the sound and vibe displayed on the previous effort Mercenaries of Mordor; a fearless blend of cavernous black- and heavy metal that somehow dodges the obvious trappings of such a composite. But rather than settling into a comfortable template, the band choose to approach the material from a slightly different angle.
In short, the main difference between old and new is that Orcrypt have moved one step closer to heavy metal in terms of songwriting and riffs. The deliberately epic melodies and Burzum-esque drones are deemphasized in favor of a more brute and direct approach, which also echoes in the shift away from Tolkien-based lyrical themes towards more malevolent subject matters. Songs are composed in an extended verse/chorus format that takes full advantage of heavy metal dynamics.
Take for example the second track. An obvious nod to the Godfathers of metal, "Beholder" opens with a tritone-based riff with the obligatory trilling on the end note, before moving into an assertive, stomping triplet rhythm as a sign of ensuing carnage. Both the verse- and chorus-riff ensue within this rhythmic framework, which consequently deemphasize their reciprocal dynamic. However, by doing so they also set the stage for the approaching climax when the song picks up tempo and explodes into soaring lead-guitar work halfway through the track. A blunt, but efficient and very much enjoyable track.
While it's difficult to make any divinations based on such a brief release, it'll be interesting to see what Orcrypt are planning for their upcoming album. In the meantime, you can download Dice and Damnation for free via the affiliated DeathToMusic.com.
Tags: Black Metal, Heavy Metal