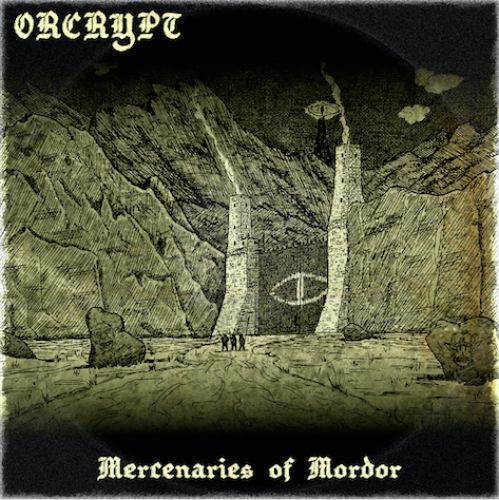 This style is emerging as the new front for underground metal: a Paradise Lost-style lead rhythm melody laced doom metal as if played by a war metal band at death-doom paces. This takes last season's favorite, the Incantation-derived "cavern metal" band, and adds to it melody and more distinctive traditional riffing, but keeps the same morbid subterranean atmosphere.
Orcrypt add to this formula that ability to wield classic, catchy choruses in the style of Pyogenesis or later Sodom, so that like war metal songs rumble through a series of riffs and then break into a clarity that resembles the moment on Pink Floyd album when storyline and music united. This is done within a riff vocabulary that would fit alongside later Emperor, early Mayhem, Revenge, Blasphemy and Order from Chaos. The result avoids the off/on hard/soft approach of bands from Pantera through nu-metal, and instead works up to the catchy choruses with embedded melodic rhythm leads among the surly and rapacious war metal/black metal riffing. This creates a haunting anticipation that flowers in the choruses, which are less frequent than with purely verse-chorus bands.
Pacing follows that of a doom-death band: breaking from slow to fast, to return to a mid-paced option that leads into the slow. This perpetuates the dark ambiance and enriches it with a sense of internal motivation. Orcrypt know how to remove everything but the essential in songs and then later, where it has no negative impact, work back in noisy leads and vocal accents. The result is both dark underground and has the power of traditional heavy metal.
Tags: dark metal, orcrypt, tolkien