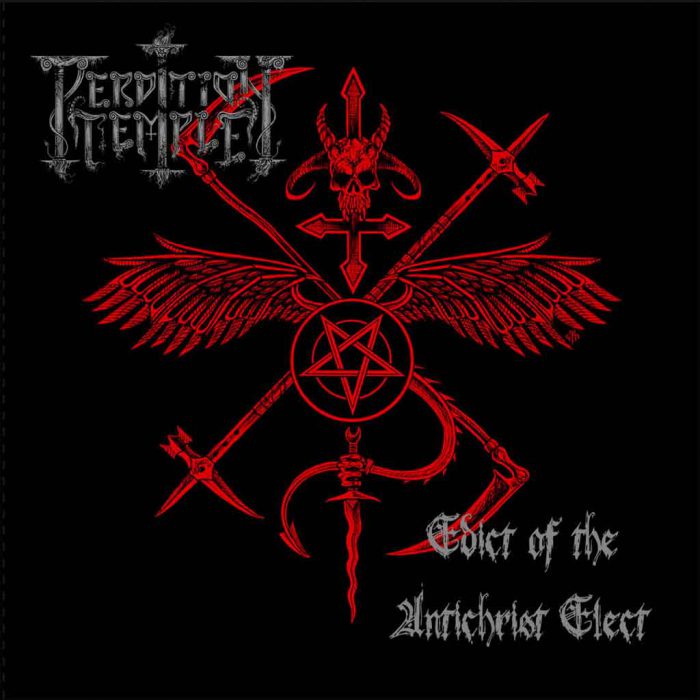 War metal like old intensely rhythmic death metal lives within the chromatic scale and only offsets that with bookends of broad leaps in riff, often whole tone scale with a melodic leap in the middle, to interrupt the codex of texture it unleashes to maintain a mood of energy and penetrating beneath surface appearance.
Comparable to bands like Nunslaughter, the war metal machine that is Perdition Temple issues forth about four hundred good riff ideas per album with half of them derived from older death metal bands that refrained from developing them to a focal role. Expect a rushing high-speed onslaught with lots of chromatic charges and little regard for tonal position within the scale; this texture then comments on itself, developing a language that mainstream music cannot speak, which seems to be the goal.
Edict of the Antichrist Select seems in many ways like an album designed for aerobic exercise since it keeps the pace high and never relents, but it demonstrates a certain amount of technical subtlety in its primary weapon, rhythm, albeit buried in lots of riffs that seem to disregard melody and harmony entirely.
Generally, war metal seems like it should be a tap on the sink of life: you turn it on and it flows out with each song basically indistinguishable from one another. Perdition Temple takes a leap further and makes each song develop a rhythmic shape into a concept, so as long as you do not mind a slamming unrelenting chromatic assault, this delivers the sensation of total alienation in a sawing assault.
Tags: perdition temple, War Metal