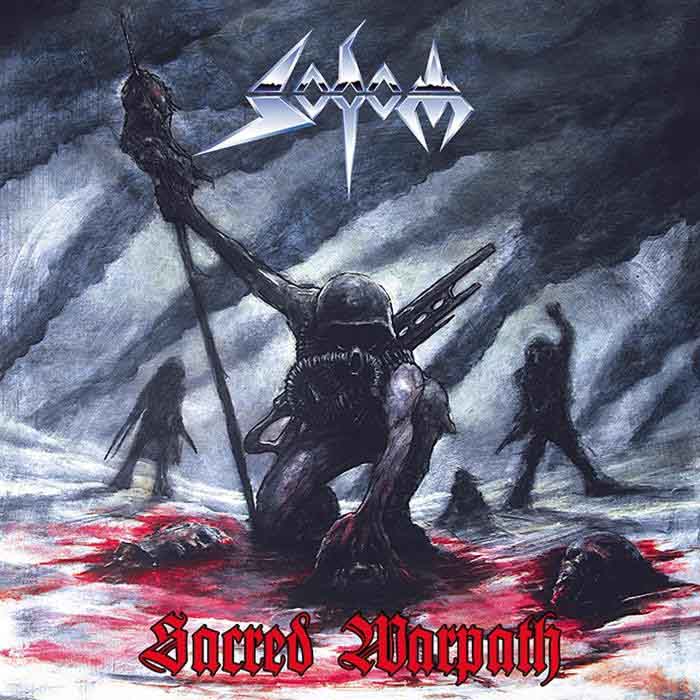 Article by Daniel Maarat
Sodom's latest EP was ignored by the Death Metal Underground when it was originally released in late 2014 due to the more commercial nature of the band's work over the past decade. After recruiting guitarist Bernd "Bernneman" Kost, Sodom abandoned their traditional black thrash style and adopted a more American speed metal, eighties Metallica and Megadeth oriented sound. Most of their new songs are rock structured, speed metal riff salads, peppered with occasional slowed-down extreme metal riffs.
Sacred Warpath is no different. The title track is the only new material and is strictly verse-chorus-verse. There is no melodic riff glue except for the verse riff variations. The chorus where Tom Angelripper snarls the name of the song in the song as a vocal hook like a line of dialogue from a cheesy action movie just serves as a way to repeat the verse verbatim to kill time. An acoustic interlude allusion to Agent Orange ("It's like poetry; it rhymes." – George Lucas) leads to a random speed metal solo for the Wacken whelps.
Following that speed metal drag, there are a few live songs nobody will ever listen to again: a cover of "Surfin' Bird" (originally from M-16 in 2001) that leads into the fan favorite singalong "The Saw is the Law", a generic Slayer-style song, and Sodom attempting Gothenburg melodeaf. These are here just to take this release from a 7" single and digital download to a 10" 33 ⅓ RPM EP and CD so Steamhammer can charge Sodomites more money. An underwhelming and mediocre cash-in, but the new song is less offensive than the Kill 'em All "loving" on 2013's Epitome of Torture.
Tags: 2014, cash grab, German Speed Metal, sacred warpath, sodom, Speed Metal