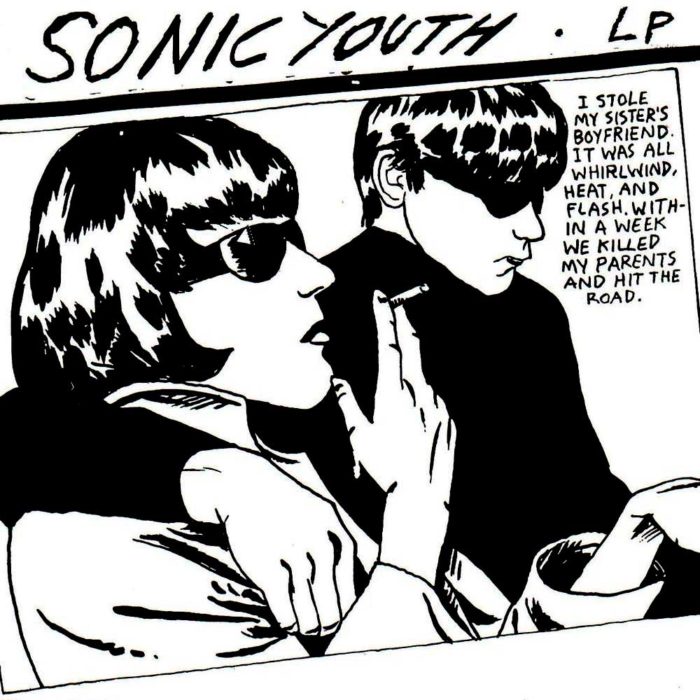 For Generation X, droning sounds were good sounds. The train passing at night meant that order was restored, the Hoover vacuum passing the doorway meant that a parent was home and somewhat engaged, and the relentless churn of machinery meant that the order that was would not collapse quite yet.
Goo is an album of drone. The first track sounds like a home-cleaning adventure, the second a confession to a psychotherapist, and the rest other sounds of the city and breakdown trying to rationalize themselves. In this album, there is no victory, only a soft pillow designed to receive defeat and stylize it as victory.
At the heart of each of these songs is a television commercial or pop song, a simple melodic/rhythmic hook, and then zero development. The verse provides a counterpoint that kills the energy except for the rhythm, and then the chorus takes the rhythm into melody and a charismatic vocal, but other than that, nothing emerges from this. Like the dying Western Civilization, it is a heath death ash dead end.
Not surprisingly, critics love this album. Having no better claim to importance in life than offering opinions, and doing so in defense of mainstream values that appeal to the broadest majority instead of the intelligent and good, critics adore anything which makes their trash-laden empty lifestyle seem like it is important.
But really, this album is the artistic equivalent of Britney Spears, the Black-Eyed Peas, or Taylor Swift. The hook is in the chorus and the verses are people ranting at you in hip voices, like an updated version of the loudspeakers outside Party meetings. The songs go nowhere. Aesthetic replaces substance, just as it did in the commercial mall culture of the 1980s.
In short: everyone you know will praise this album, but it is a dead end. Escape if you value your ability to think, or just like reality more than human drama dressed up as profundity. In the background, on that 1980s Realistic stereo, this album drones on without any hope of making a point.
Tags: 1980s, 1990, 1990s, pop music, punk, review, sonic youth, tedium