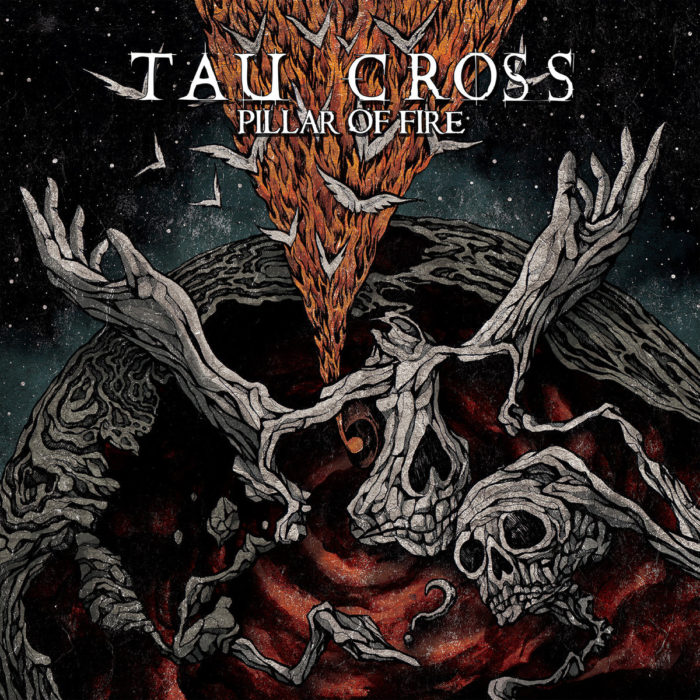 Tau Cross regress from playing Motorhead and Killing Joke influenced crust punk and heavy metal on Pillar of Fire to mainstream 1990s alternative rock similar to Amebix's Sonic Mass swansong. Boredom awaits.

All of the songs on Pillar of Fire are very repetitive, rock structured affairs that quickly wear out their initial welcome if there was any to begin with. The riffing is mainly a dumbed-down version of Metallica, frequently all too close to the bouncy chugs of Pantera. Leads and melodic fills, as on the better self-titled debut, are inspired by Killing Joke and Kirk Hammett. The verses and choruses always unenthusiastically repeat over the course of four to five minutes so that Rob "The Baron" Miller can vocalize his lyrics in various styles.
Rob Miller's involvement is the sole attraction to this tepid album. His stating of apocalyptic medievalisms and early modern period English occultism over Metallica riffing in rock singalongs is the sole attaction of Pillar of Fire. All of the Motorheadish, speed-fueled exuberance and urgency that was present on the debut is gone. What is left is an attempt at commercial accessibility through appeal to 1990s MTV music video nostalgia; almost a Pantera meets Type O Negative with the gothicness swapped out for a British folkishness. Even the folk rock title track starts imitating David Bowie halfway through.
Like one of the typical "better" radio rock albums from the 90s, Pillar of Fire throws a dozen darts and a few land on the board as slightly catchy but too repetitive for repeated listening "hits". As a metal album and a followup to Tau Cross, Pillar of Fire fails miserably. Amebix and Metallica fans may enjoy a spin or two of it but will emerge disappointed; the preview singles and music videos ("Killing the King") are the most energetic tracks on the record. The only happy buyers will be modern rock fans who eat dirt and like it. More discerning listeners will feel compelled to turn Pillar of Fire off and put on Arise!, Master of Puppets, or even perhaps Ananku instead.
Tags: alternative rock, crustcore, dumbing-down, hard rock, pillar of fire, Post-Punk, relapse, relapse records, review, rob miller, tau cross