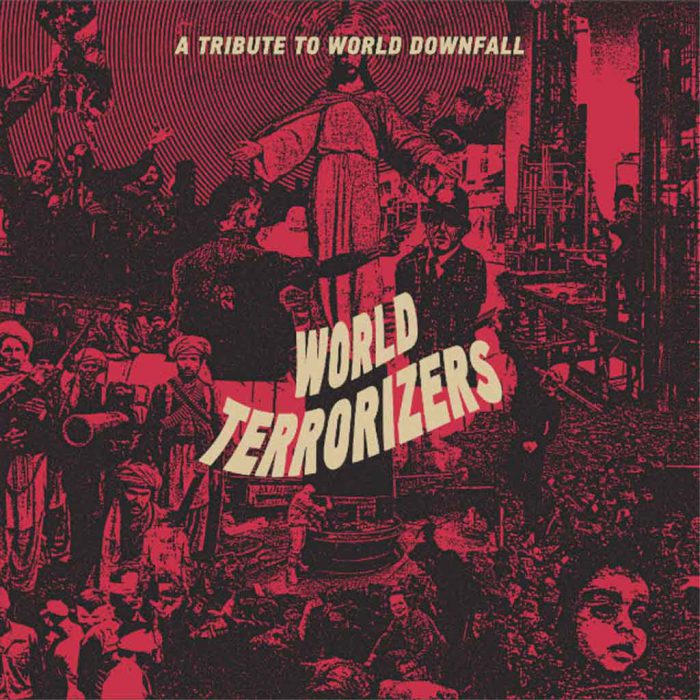 Bands do cover songs to learn from them, to show their ability to nail it as well as the original, and to expand upon what have become classics of the metal culture. It is one thing to play a song, and another to deconstruct it, analyze it, and reassemble it to show an understanding of it.
World Terrorizers: A Tribute to World Downfall takes us to different places than would ordinarily be expected from a compilation of covers because it focuses on one album by one band, the foundational grindcore work World Downfall which along with Horrified, Impulse to Destroy, Scum, and Reek of Putrefaction laid out the essence of the genre.
This one will get your blood pumping and was a joy to listen to because the source material was strong and these bands from all over the world took to it with a joy and élan showing how much the seminal grindcore album from Terrorizer inspired listeners across the spectrum of alienation.
1. After World Obliteration – MASS DEFECT (Philippines)
Slowed the chorus slightly, picked up the verses just a tad, and played this one like mid-1990s Napalm Death with even more burly vocals. A perfect track for your first cup of coffee.
2. Storm of Stress – CARNAL BLASPHEMY (Colombia)
We might call this blurcore because this band aims to play the song faithfully at full speed while using nearly whispered vocals to give it even more texture but let the guitars roam freely without compassion.
3. Fear of Napalm – BONES (USA)
Covering this song is fraught with risk because it is so well-known and appreciated, but this band charges ahead with what might be described as a middle-period Carcass slightly off-tempo approach that builds a formidable groove into this song that is promptly shattered by raging blasting.
4. Human Prey – BIRTH OF DEPRAVITY (Greece)
Nice messy cover with lots of energy, emphasizing the interplay between drums and bass as a backdrop for the crashing guitars under gruff apocalyptic vocal gurgles.
5. Corporation Pull-In – STHENO (Greece)
This version takes a death metal approach that brings out the punk aspects in the main riff by fitting it alongside precise and rigid playing of the chorus riff, giving this song an unruly energy.
6. Strategic Warheads – SARKAST (Germany)
Adopting a buzzsaw Swedish sound like the second Seance album, Sarkast tackle this sound as if it were a blackened death metal anthem, inserting atmosphere and chaotic thrashing violence.
7. Condemned System – ABYSSUS (Greece)
While approaching this song almost like a hardcore punk anthem, this interpretation emphasizes the surging rhythms of the main riff by charging almost seamlessly between riffs like a breathless ride through the valleys of Hell.
8. Resurrection – PSYCHOTOMY (Italy)
This cover remains faithful while injecting an almost black metal sensibility to the tremolo riffing, building to a terrific confrontation as drums and vocals get more savage.
9. Enslaved by Propaganda – FLASHOUT (Canada)
Faithfully exploring the original, this cover exchanges lead instrument between drums and guitars, making this song feel like it is coming apart as it is coming together.
10. Need to Live – SKULLSMASHER (USA)
Sliding into these riffs like camouflage, Skullsmasher take a death metal approach and let the guitars rigidly dominate where David Vincent's bass once did, giving this song an insistent violence.
11. Ripped to Shreds – RIPPED TO SHREDS (USA)
This approach calls to mind middle period Napalm Death around Mass Appeal Madness when the band deliberately played with aggression that was not designed to sound clean, but nailed every rhythm so that radiating sustain covers the track in a fine film of delicious noise.
12. Injustice – PROGRESS OF INHUMANITY (Greece)
If you wanted to know what a contemporary grindcore band would do to this track, Progress of Inhumanity offers a strong candidate with guitars made into a voice of their own through tight integration of riff into percussion.
13. Whirlwind Struggle – SACROVORE (Greece)
This track sounds more like what would happen if Nausea covered Terrorizer, with more space given to the riffs and drums keeping a minimal but intense presence without taking over from the guitars.
14. Infestation – CURSED BLOOD (Greece)
Reflecting the hazy days when early death metal and grindcore were more similar, this cover sounds more like Sepultura in percussion but carries a Vader style forward rhythm with guitars.
15. Dead Shall Rise – GORILLA PANIK (Germany)
Bringing out the sense of grace rising from chaos, this band play furious bounding hardcore for the verses and let the tremolo carry the chorus.
16. World Downfall – SOULSKINNER (Greece)
Applying technicality while hiding it behind a reverent cover, this band evoke the contrast in Terrorizer itself between nearly dropping into a groove and then colliding with pummeling frenetic riffing.
No one should pay more than 6$ / 6€ for this release, it was made from fans for fans to salute the legacy of this legendary album. This is an unofficial and DIY release.
Obviously a labor of appreciation for this classic album, World Terrorizers: A Tribute to "World Downfall" sounds like most of these bands recorded in their practice spaces or neighborhood studios but have played these songs many times over the years as a way of honing their own skill, and the resulting powerhouse covers bring out everything that was great about this album in new voices.
With thanks to Vic of Death in Pieces Records for allowing us to present this stream!
Tags: Abyssus, birthy of depravity, bones, Carnal Blasphemy, cursed blood, flashout, gorilla panic, Grindcore, mass defect, progress of inhumanity, psychotomy, ripped to shreds, sacrovore, sarkast, skullsmasher, soulskinner, stheno, terrorizer