Averse Sefira, 1349, Goatwhore and Nachtmysticum
April 9, 2007
201 E. 4th Street
St. Paul, Minnesota 5510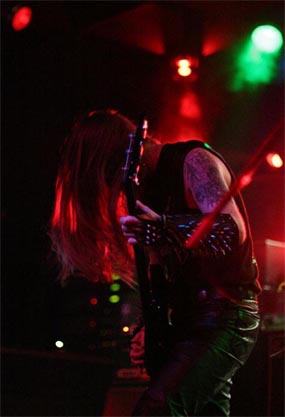 This show is one of those memories you forget is real, and find yourself a week later thinking how it occupies a space between thought and dream and a pinch-yourself moment in the midst of chaos. Arriving late after a harrowing evening involving taking a good friend to the hospital after he ate a rack of Xanax and downed half a bottle of Absolut, I was barely inside the door before a familiar guitar tone rose up into the soundcheck. Other people were hurrying toward the stage as well, and I found myself caught up in the anticipation.
Averse Sefira took the stage a short while later, and in summary, they were more confident with better presentation than any of the four previous times I've seen them. They stormed the stage with the confidence of a band who knows that they're contenders, even if not everyone in the metal world has yet noticed. In harsh tones of deliberate rage, they announced their presence between songs, but the rest of the time they skipped the periphery and played like madmen. They were there for the attack, and it delivered.
The sound was superior to any previous Averse Sefira show I have seen, although as this was their first appearance in this venue, there is no previous instance for direct comparison. Balanced and powerful, the wave of audial information radiated from the speakers and preserved every pick strum, drum hit and overdriven vocal rage as it drove them into the audience. Although the performance was more important than the sound, it helps to be able to hear exactly what's going on, a rarity at most shows.
They've honed their live presence since I saw them last. Not only are they more cohesive as a phalanx on the stage, but they have grown into their sound and stripped down their motions onstage to be simultaneously efficient and impulsive. This band will manage a tempo change without an eyebrow flicker, and then at exactly the moment when it is least convenient, add a flourish of rage in a gesture or the proud indomitable stab of a guitar. The combination of better sound, and more forceful performance, clarified their music in a live setting where previously it seemed a difficulty. In general, the only bands that have it easy live are the simple ones.
The set itself was obviously polished as well, this being their third week on tour. All tracks came from the two most recent albums. "Helix in Audience" is turning into a flagship song – a great, diverse, momentum-driven track with which they bring the set to a boiling point. Other tracks include "Detonation," a great opener, "Plagabraha," "Battle's Clarion," "…Ablaze" and several others from Tetragrammatical Astygmata. After an impromptu request for "Deathymn" screamed from the shadowed angles of the crowd, the band consulted each other with their trademark silent nods, guitarist Sanguine A. Nocturne hailed the requester, and the band launched into it all guns blazing, to great effect.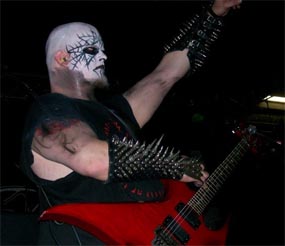 Their stage presence was typical Averse Sefira, but it cannot be taken for granted. None of the ingratiating, gregarious, vapid banter and skit-like dramatics lit up the stage, but a force of concentration, expressed less in the trivial acts than the commanding performance they gave. There was none of the mixed confused emotions that plague most bands on stage, where they're half there as a job, half as a hobby, and unsure of whether to resent the audience of grovel before them. With Averse Sefira on the stage, the shared assumption that we were all of us there to see a performance to conclusion like a ritual united us, and we did not need reminders.
At the end of the set, I staggered out into the night appreciating what I had seen, but in skimming over the society functions of the night and cutting right to a powerful musical performance, it gained an atmosphere of the unreal… like something from a time long ago, when warlike honor was more important than whether the guy from the promotions company got his free beer or not. With delivery like this, these better-funded tours will be massive for Averse Sefira, as their live show is ethereally charismatic and puts so much back into the recorded material the two can barely be separated. Based on what seems to me like a clear success, I have a feeling they'll be back on the road again soon, and don't want to miss it.
– Written by kontinual
Bands:
Averse Sefira
Promoters:
Station 4