Possessed and Sadistic Intent
June 29, 2008
Red 7
622 E. 7th Street
Austin, Texas 78701
Sadistic Intent played their first-ever show in Austin last night, which was ostensibly more auspicious in that they were also serving as Jeff Becerra's backing band in the current incarnation of Possessed. The band came out to a well-attended room and delivered a set of now time-worn but authentic tracks taken from the series of EPs they released in the mid-90's. A distinct sense of "Abominations of Desolation" permeated the set in their favor, as few bands of the current era are able to draw upon their predecessors in such a convincing manner. Momentum was lost as one of the two guitarists suddenly had string problems and appeared to be unable to resolve it without consultation from both of his axe-mates. The unit left the stage after three songs but then returned to complete the set about ten minutes later. The audience reacted appropriately with multiple phalanxes of whirling hair and horns held high, and ultimately Sadistic Intent proved why their name continues to endure despite a spare discography.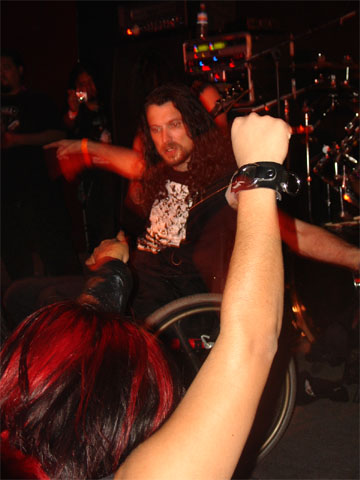 Following another more prolonged intermission, the band retook the stage again with Jeff Becerra in tow. There was much curiosity leading up to this performance because save for the notorious vocalist this was effectively a Possessed cover band. Compounding this was Becerra's confinement to a wheelchair since 1989 after being shot in a drug deal gone bad (these circumstances have since been obscured through revisionism and the fact that the event occurred before the advent of the internet), so expectations among the assembled faithful were punctuated with question marks and guarded commentary.
It takes courage to carry on after such a devastating blow to one's health and mobility, and if Becerra had presented with conviction and dignity he would have easily overcome his perceived limitations. In this venue, unfortunately, he wore his handicap and a still-apparent substance abuse problem around his neck like an anvil and proceeded to turn the event into a spectacle. The man is admittedly scary in a way that transcends metal; mad-eyed and clearly unstable, he wheeled around the stage and spent most of the time crowding or hitting the dutiful members of his backing band or gesticulating to his handlers for more beer (which, once received, he continuously poured over his head). Sadistic Intent, to their massive credit, lashed convincingly through a set of tunes comprised of the proto-death classic "Seven Churches", and seemed they focused on working as a unit in spite of the dubious situation. It was no surprise that they seemed divorced from the vocalist, given his complete lack of poise. Becerra rasped and yelled his way through the songs in a fashion that made it seem more like he was interrupting rather than contributing. There were a few glimmers of the hellish voice that made him famous, but it was hardly a showing that would have resurrected any former glories. The set's highlight was the modern classic, "The Exorcist", which led to several subsequent injuries in the pit and further acquitted the band's efforts. The end of the show was marked by Becerra's leap from the stage, wheelchair and all, face-first into the middle of the floor. For a moment it looked as though he had managed to finish himself off but his attendants managed to scrape him up and carry him past many bemused onlookers.
In this reviewer's opinion, the legacy of Possessed is in terrible danger of being further maligned and invalidated through appearances such as this. It was an experience to be sure, but more befitting of a rodeo or a circus than the revival of a seminal metal act. Even a top-flight backing band cannot account for the psychotic and counterproductive behavior of its frontman, and ultimately it is Mr. Becerra whose reputation is at stake. For now it seems like he is a full-time resident of a truly dark and painful place, and if he does not find a way to surface then he will likely consumed by the very demons he invoked on his albums so many years ago.
– Written by David Anzalone
Bands:
Possessed
Sadistic Intent
Promoters:
Red 7