Maryland Deathfest VII
May 23, 24 and 25, 2009
Sonar, Baltimore, Maryland
The summer metal festival — Europe has a number of them: Obscene Extreme Fest, Party San, Wacken. Seemingly long gone are the days when North Americans had their own Milwaukee Metalfest to make pilgrimage to at the end of every summer. Fortunately, after several years of festival lull, two metal fans decided to put on a show that featured "real" metal bands again.
The Maryland Deathfest is now an annual event that takes place for three days near the end of May. This past year featured an impeccable lineup, perhaps the very best seen at MDF thus far, a strong hint that quality and old-school death metal and grindcore remain vital forces in the greater metal world.
After making the trip down the coast to Baltimore a day early, my cohorts and I decided to attend the pre-show for a mere ten dollars. Not much was of note during this "pre-fest". Czech grindcore band Jig-Ai showed themselves as instrumentally competent, and able to cook up a good riff, but a lack of dynamics and irritating pig squeals prevented their music from being enjoyed further. Following Jig-Ai came a few more bands that were not significant, so relaxing outside in the cool spring night was much preferred.
It was not until Lethal Aggression that the pre-fest picked up. This reviewer had never heard said band before, but they presented a charming fusion of crossover thrash, early grindcore, and the best of hardcore punk. It could be likened to Cryptic Slaughter mixed with Siege and a hint of speed metal. Their performance was quite spirited, and the band ripped through an assortment of songs with professionalism and an impermeable cohesiveness as a group.
The headliner of the night was Ghoul, a "supergroup" of sorts made up of members from Exhumed, Impaled, and Dystopia, among others. Musically, this outfit melds together speed metal, hints of death metal riffing, and a surface aesthetic very much like Danzig-era Misfits. From their ridicule of the new, ridiculous "retro-thrash" trend to their spraying of liquid all over the audience in a bottle labeled "swine flu," their performance did not disappoint for pure satirical entertainment.
Day One
Despite the "deathfest" name, grindcore has always figured prominently into Maryland Deathfest's festival repertoire. The grindcore scene, as with death and black metal, has come upon hard times, with very little of excitement being generated. Still, this general trend was not enough to prevent several fantastic grindcore bands (as well as a few merely good ones) from appearing on the Friday bill.
Following a good night's sleep, my cohorts and I met with up with other friends from around the city and trekked back to the venue. It became readily apparent that Sweden's blast-and-forget black metal crew Marduk would not be playing, due to troubles concerning their visas, which was of little loss to festival quality as a whole.
Instead, the outdoor stage schedule was modified to include Cephalic Carnage, and the indoor show would end earlier than planned. The first band of my day was Sayyadina, who sounded much like a more aggressive Nasum. The Swedegrind sound has never been terribly interesting, as most bands who are involved with it are wont to make it much too technical and polished. This contrasts readily with the unrefined edge required of grindcore; instead the entire experience is spoiled with a big budget and nice, "clean," rock-n-roll production. Fortunately, based on their live performance, Sayyadina seem to integrate much of the early 1990s American grindcore style into their take on the genre. The downside would be their insistence on blasting — way too much of it — and not enough variation in rhythm. Further investigation will be needed to determine this band's ultimate listenability.
Perhaps unsurprisingly, the most anticipated band of the night was Mayhem. The band took the stage and opened with "Pagan Fears." What was immediately apparent were two things: the first being how truly inhuman Attila Csihar's voice is, and the second being that the sound engineers had absolutely no idea how to mix black metal in a live setting. The guitars were so unbelievably screechy that I had to move back from the stage in order to prevent my eardrums from imploding. Apart from this problem (which was only partly fixed roughly halfway into the set), Mayhem delivered a commendable performance, with plenty of highlights ("Deathcrush"; "Freezing Moon"), and even a very surprising presentation of the title track off De Mysteriis Dom Sathanas. Atilla's presence was undeniable, almost messianic, as he warped his vocal chords into his own plaything: screeching, bellowing, chanting, and growling to great effect. The two new guitarists had a decent understanding of Mayhem's material, apparent despite the detriment of the horrific sound.
One strange thing to see was how many people turned up for Mayhem, and how about half of them looked like they had never heard the band in their life. Given Mayhem's controversial past, one might be inclined to believe that half of the people there were just turning up in the hopes of seeing some immature novelty act. Further proof that in the underground metal world, hipsters unfortunately abound.
Up next was the legendary Dutch death metal group Asphyx, playing their first-ever American show, which was accompanied by a unanimously great reception by the large crowd. For the occasion, they were given the honor of wrapping up the first day of the outdoor stage. Vocalist Martin Van Drunen, though becoming a death metal gray-hair, was easily one of the most engaging and sincere frontmen this reviewer has had the pleasure to see live. His banter with the audience and habit of high-fiving crowd surfers contributed to the sense of fun that permeated Asphyx's performance. In blazing through several tracks from a variety of studio albums (save for the embarrassing God Cries), Asphyx even managed to play "Abomination Echoes" from the Crush the Cenotaph demo. Unfortunately, Mayhem's longer-than-anticipated set forced Asphyx to cut theirs short in accordance with the ludicrously early outdoor sound curfew of 11 pm. Ending with the massive title track offThe Rack, the sound engineers axed the power to the amps with only about a minute left in the song. Coincidentally, the original recording ends by fading out, so in essence the audience was able to experience a full studio version of it. Asphyx bowed off the stage to massive applause.
Upon heading inside, I caught the set of crossover/hardcore "supergroup" Venomous Concept. Made up of half of Napalm Death and half of Brutal Truth, this quartet retains interest through their exploration of embryonic extreme metal and hardcore styles. A very energetic and very intoxicated Kevin Sharpe kept the crowd on their toes, even cutting his forehead open after smashing it with the microphone. After pummeling their way through a half-hour set, Venomous Concept left the stage, and this reviewer hiked back to his hotel room.
Day Two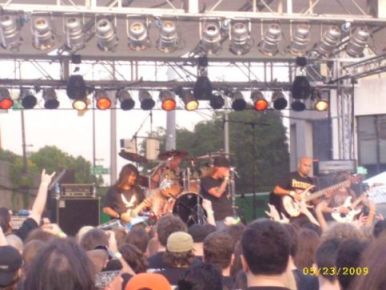 The next day, feeling energized and with ears freshly ringing, my group headed down to Sonar for day two of the festival. After skipping over the many bands of no interest, the first band of day two we encountered was P.L.F. (formerly known as Pretty Little Flower, now apparently going by the name Pulverizing Lethal Force). This Texas grindcore trio was highly impressive with their regressive style, revealing influences from the best of the genre, chiefly Assuck andTerrorizer. The singer/guitarist joked that their merch was available in the back room, and that they brought plenty of long-sleeved shirts, as only true Hessians wear them in such obscenely hot weather. Despite a very short set time, P.L.F. managed to rumble through their setlist with a few minutes to spare, and received mostly positive reactions from the audience.
Since the next batch of bands was not of interest in any way, my friends and I skipped them in favor of finding some food, after which we returned to catch Sweden's Rotten Sound. Although one may look upon them unfavorably because of their association with the Nasum/groovy-grindcore scene, Rotten Sound are not, sonically at least, deserving of such condemnation. Their music is like Dead Infection or Sweden's Dawn: wholly unoriginal, but executed in such a manner that one cannot find much fault in what they do. Their brand of grindcore is much more "British" (for lack of a better description), in that it takes more influence from early crust and hardcore than it does groove metal.
Following Rotten Sound, this reviewer chose to relax in the shade with a cool water and rest while Hail Of Bullets played on stage. Their album was not impressive in the slightest, and neither was their performance, despite the ever-present charm of the previous night's star vocalist Martin Van Drunen. It is quite probable that if the lineup did not include such prominent members of the death metal scene, the album would not have received a second thought or listen by anyone.
Thankfully, Brutal Truth took to the stage next, alleviating the crushing boredom wrought by Hail of Bullets, immediately stirring me from my needed respite. Bassist Dan Lilker commented that his throat was hoarse, and he would be unable to do backup vocals; luckily, their performance was not hindered by this revelation in any way. Frontman Kevin Sharpe, sporting a nice cut in the middle of his forehead from the previous night's on-stage chaos, was as engaging as ever as the band merged classic and new in a seamless display of veteran competency.
After a short stint of watching Misery Index (who were capable, though nearly totally unfamiliar to this reviewer,), the ever-anticipated Immolation was up next on the outside stage. Baffling is the fact that Immolation is not a more recognized band in the death metal community; they have been together for over two decades, and have received a good deal of praise and notoriety, but when the heavy hitters of the genre are mentioned, Immolation is rarely on the list — modern audiences seem, unfortunately, to be fixated on flashy technicality, blast beats and other novelties rather than on songwriting, one of the talents at which Immolation has always excelled.
A highlight of Immolation's set was a favorite off of Dawn of Possession, "Into Everlasting Fire." Unfortunately for them, equipment problems at the beginning of their set forced the band to shorten their playing time. Nonetheless, their performance was top-notch, and those who have not witnessed them in a live setting are truly missing out on one of death metal's legendary acts.
Atheist was poised to perform shortly thereafter on the outside stage. The long-awaited return of Atheist was most certainly a reason for many who attended MDF. Before their initial arrival, the feeling that one was about to hear such classics as "Mother Man" and "Piece of Time" in a live setting seemed almost unreal. Despite this overwhelming anticipation, it seemed almost immediately that their performance that night would be good, but not great, as might be expected on such a fortunate occasion from these exemplary musicians. Vocalist Kelly Shaffer (who, thanks to his well-known tendonitis affliction, was not playing any instruments) apparently smokes a lot of cigarettes, and it showed in his strained performance almost as if it hurt him intensely to do his characteristic snarl. Despite the slight disappointments, it was a welcome sight to see Atheist performing together again, and musically there were few real mishaps.
Up next outdoors was one of the bands that I specifically wished to see: Napalm Death. Their material from 1985 to 1992 is some of my favorite music from any genre. After that period, a lot of mediocrity and occasional awfulness plagued the band. More recently,The Code is Red had enough fire in it to be a moderately enjoyable album — a breath of fresh air for old time fans. Despite their last two albums feeling more like a band having totally given up, rather than one whose enthusiasm and creative drive are intact, I was still eager to see them perform. All-time classic tracks — "It's A! M.A.N.S. World," "Deciever," "Life?," "Scum," "The Kill," and of course, "You Suffer" — were battered through with the confidence and poise of professionals clearly beyond comfortable with their abilities, inducing the crowd (including myself) to a violent moshing melee. With luck, this confidence will shine through in future recordings to provide the element of desire that has been conspicuously absent in their latest works.
The final performer on the outside stage at MDF was none other than England's Bolt Thrower. After years of prodding by the event organizers, Bolt Thrower was finally convinced to cross the pond to headline Saturday's show. A quick glance around the concert area told me that Bolt Thrower had quite possibly drawn the largest crowd of the fest thus far — with good reason, as this would be Bolt Thrower's first show in the USA in 14 years. A thunderous ovation erupted as the band took the stage. It was a welcome return for some of the older spectators; for most on their first time through, it was a near-magical experience to see one of death metal's stalwarts performing their numerous classics in the flesh. As expected, Bolt Thrower unleashed an audio barrage upon the helpless audience, the sound rolling over the crowd like an armored division. Particular highlights were "The IVth Crusade," "Cenotaph," and "For Victory," though every song, old to new, was performed flawlessly. The fervent feedback from the audience fed the band members, who thrived off the positive energy.
Day Three
Day three began like the other two days: with a bunch of bands no one gave a shit about. Apart from Magrudergrind's violent intensity, there wasn't much to see until Absu took the stage outside.
When Absu did finally take the stage, they began playing immediately. After a short ambient intro piece, Proscriptor greeted the rather large turnout. Strangely, Proscriptor mostly stuck to drumming, providing backup vocals through parts of the set, but only leading on a few songs. This choice proved to be a bit disheartening, as the new guitarist/singer is comparatively timid = vocally. Absu soldiered onward regardless, doing what they manage given their criminally short set time. With their latest album being a mishmash between excellent instrumental performance and less than stellar songwriting, it wise probably wise that only one song from the album was played.
After Abscess and Aura Noir, who were both competent (especially the latter), Destroyer 666 took the stage to end the final night of outdoor performances. The Australian quartet was greeted with an enthusiasm that was transferred directly to their fiery presentation. Like the other major acts present, D666 were tight instrumentally, and frontman KK Warslut was able to whip the crowd into a demonic frenzy. The booming choruses of "I Am The Wargod" and "Black City – Black Fire" were particularly memorable. All in all, an appropriate high point to conclude the outdoor stage.
Pestilence had apparently run into visa issues, and like Marduk, were not able to enter the USA. To compensate for this, the outdoor stage bands were given slightly longer set times, and it was announced that a surprise performer would take Pestilence's time slot on the inside stage. Rumors abounded as to who this surprise would be, and it turned out to be Bolt Thrower, who had stayed behind to tear through a second set in top-notch fashion and enthusiasm, which will only further cement their weekend appearance as one of latter-day death metal legend.
Maryland Deathfest, while somewhat choked with vagabonds and hipsters — an inevitable side-effect of the longevity of the festivals themselves and urban environments in which they are nearly always held — was well-attended and exceptionally well-organized. Coupled with the amicable staff, this made for a superbly positive experience often lacking in metal gatherings at this scale. Besides the superb planning and execution in the background, the line-up was likely one of the best of any fest of recent vintage, including several notable reformed death metal acts and a number of rare appearances in the same three-day span.
Refreshing was the fact that the more hipster-oriented bands did not receive nearly the reception of the respectable and established bands; more refreshing still was the welcome that awaited the old guard death metal/grindcore bands — the likes of Asphyx, Bolt Thrower, Brutal Truth, Immolation and Atheist — who after years of struggling against the "deaths" of their respective genres and the attendant mediocre aftermath are finally again reaping the rewards of writing and performing music that embraces original ideals. Perhaps this is just a part of a potential rebirth of metal, hopefully one that MDF will continue to foster by providing sanctuary to the bands of quality that have made these genres exciting to listen to since the beginning.
– Written by deadite
Bands:
Bolt Thrower
Asphyx
Napalm Death
Mayhem
Atheist
Abscess
Immolation
Destroyer 666
Aura Noir
Brutal Truth
Absu
Hail of Bullets
Sigh
General Surgery
Cephalic Carnage
Venomous Concept
Cattle Decapitation
Birdflesh
Pig Destroyer
Misery Index
Wolves in the Throne Room
Rotten Sound
The Red Chord
Devourment
Victims
Sayyadina
Trap Them
Phobia
Despise You
Flesh Parade
Catheter
Antigama
Splitter
Crowpath
Krallice
Pigsty
Jig-Ai
Kill the Client
Unearthly Trance
Weekend Nachos
Gnostic
Magrudergrind
Withered
Lair of the Minotaur
Pretty Little Flower
Maruta
The Endless Blockade
Yakuza
Triac
Agenda of Swine
Complete Failure
Drugs of Faith
Hero Destroyed
Promoters:
Maryland Deathfest