Nodens, Hod and Averse Sefira
October 11, 2008
Room 710
710 Red River Street
Austin, Texas 78701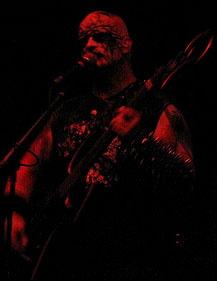 The phrase "welcome to hell" would be a sentiment fitting for the night in two ways- one positive and one negative. The negative, of course, was the journey to every scenester weekend hippie's favorite city – that pit of insincerity and neurotic dysfunction known as Austin, Texas. The positive meaning was the sets conjured up by Averse Sefira and, to a lesser extent, Nodens, who brought a much less earthly hell to Austin that night, a Hell of black and true evil, an evil of passion ferocity, as opposed to the grey, human hell that was the surroundings of the club.
When this reviewer entered the venue, some death/grind abortion known as Self Inflicted was playing. The fact that as this reviewer was walking by the club, he heard them and thought that he was passing a biker club with rhythmic motorcycle noises passing for music probably tells everything that needs to be said about this band; and if it doesn't, it'll have to do, as they were as uninteresting to pay attention to as the white paint on the walls of an average apartment. This reviewer did not catch much of their set anyways, as after a few minutes they tore down, and Nodens took the stage.
Nodens
Nodens, a three-piece from Houston, TX, played a good set of anthemic death/black metal. This band incorporates tremolo-picked black metal style sections and Slayer-inspired dissonant lead riffs with Swedish-style slower, melodic riffs, but manages to hold the whole thing together with obviously veteran songwriting, and an instinct for which two riffs will work well together, even if they are radically different. The band's weakness, however, likely springs from this style of composition- frequently, songs fail to differentiate themselves significantly from others; rather than having an identity of their own, they simply become "another Nodens song". It's no surprise that the set's highlights, "The Shadowmancer" and "Doctrina Evangelica", were the songs that had the strongest identity as individual songs, the former being an anthem that managed to simultaneously be moving and catchy, and the latter being the most "focused" song in the set with the fewest digressions into other ideas. However, despite this weakness, the set, taken in its gestalt, was an energetic call to war that was appreciated by this reviewer.
Hod
Hod, a five-piece death metal band from San Antonio, was up next. The band's music seemed seemed to lack any higher thinking functions at all, relying purely on aggression, instinct, and energy to carry the crowd. This very nearly worked, for two reasons. The band's technical skills are undeniably strong- when needed, they can tear through technical material at high speed with ease. In addition, they have an absolutely amazing stage presence, with the entire band in constant motion, and their vocalist constantly gesturing madly and using his microphone stand as a penile extension. However, ultimately, the lack of intelligence was this band's death- the vocalist, frustrated with the lack of response his inane between-song banter about alcohol and sex was getting, finally threw a temper-tantrum on stage, which lead to audience members yelling "fuck you" and "get off the stage", which caused Hod to cut their set short and end it in ignominy.
Averse Sefira
After some tear-down and set up, the lights dimmed, an ambient piece began to play, and the most anticipated band of the night took the stage, adorned in corpse paint and spikes. The ambient intro faded, and Averse Sefira wasted no time in tearing into what is likely going to be their signature song in a year or two, "Vomitorium Angelis". The band proceeded to play an eight-song set culled from their most recent two albums, that showcased the violent and intolerant as well as the triumphant and joyful, and even the radiantly beautiful through use of high-speed dissonant melodic riffing over a pounding and precise percussion which was contrasted with the more playful right-hand rhythms provided by Sanguine Mapsama on guitar. Rather than enslaving himself to the "on the beat" tremolo-pick like many black metal guitarists do, Sanguine approached rhythm, with the touch of a jazz musician, using the beat as a guideline that could be deviated from when needed to give his riffs much more life- the best example of this came in the build down before the explosion in "Detonation", which showed him lightly and sensitively playing at low volume, with little distortion, throwing in improvised arpeggios and improvising the details of the rhythm in the larger framework, making this passage far more effective than it is on album. Smaller examples of this rhythmic freedom were found throughout the night, and made this performance far more effective than the album versions of the songs. The glue that held the freedom of Sanguine's guitar and the oppression of The Carcass's battery together was Wrath's bass, which followed The Carcass's rhythm, but Sanguine's melodies, thus creating a unifying factor between the two otherwise seemingly disparate elements.
This style of playing their material made their transitions between moods much more dramatic and marked, and it allowed them, in a manner reminiscent of Atheist's "Unquestionable Presence" or Demilich's "Nespithe", to be simultaneously child-like and playful, and aggressive. They waged war against the forces of light, but they did it as a child would, with joy and affirmation of combat rather than anger. They summoned death, and they smiled as they did so. In the manner of all great metal, their performance was "dark", but it wasn't a mourning darkness that amounts to an emo's whining about how life sucks, but rather was a celebration of the liveliness inherent to the feral and vicious. If you were in Texas and missed this, what were you thinking?
Averse Sefira setlist:
Vomitorium Angelis
Plagabraha
Heirophant Disgorging
Viral Kinesis
Serpent Recoil
A Shower of Idols
Detonation
Helix in Audience
Bands:
Nodens
Hod
Averse Sefira
Promoters:
Room 710, Austin Texas