Watain, Withered, Ritual Killer and Sarcolytic
October 25, 2008
Red 7
611 E. 7th Street
Austin, Texas 78701
Austin has come by its current status as Texas' metal capital somewhat disingenuously; San Antonio, once a world-famous metal mecca, has continued to fail the genre with a dearth of viable venues or solid attendance. The irony is that most notable Austin shows have an audience with San Antonians comprising nearly one-half, along with a considerable supplement of Houston visitors. Nevertheless, Austin has the advantage with an endless supply of mediocre but metal-receptive venues combined with its centralized location, so legitimate or not it is now the city for Texas hessians to go for shows. Red 7 itself is at least spacious with a semi-decent PA, though its current lack of air conditioning made the room sticky and uncomfortable. Vex was the first act but this reviewer chose to stand out on the street due to the aforementioned conditions, but also because the band itself is so stylistically confused they are virtually unlistenable. Local death metal stalwarts Sacrolytic came next and delivered a solid set that was sadly compromised by its muddy sound. The band presents as a convincing Suffocation variant complete with BC Rich guitars and a storm of hair from the front line, but their live shows would definitely benefit from a personal sound engineer.
Ritual Killer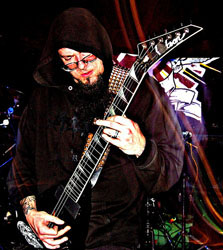 Ritual Killer is a side project of Goatwhore axeman Sammy Duet, though few people are aware of this so the band was obligated to stand on its own merits. They attacked a set of songs that were one part Hellhammer and two parts Blasphemy, and while the band delivered a competent show (the dreadlocked and visibly disturbed vocalist added an enigmatic touch to the proceedings) the songs quickly ran together and monotony set in. However, they seemed aware of the limited range of their material and the thirty minute set prevented them from overstaying their welcome. They were not bad by any means, but also not nuanced enough to make any lasting impact. If the band ever moves out of side project status they may end up with more to offer. Once again this reviewer stepped outside to breathe dry air and to avoid Book of Black Earth, a band who describes themselves as "death grunge" and may quickly realize that this label reads to most people as, "ignore us, we're not credible". This is precisely what happened; there was no reason for this band to be on the tour.
Withered
Withered came next and drew most everyone back into the room in the process. They play a brand of driving Swedish-style death metal that invokes early Amon Amarth but with an injected dissonance and feedback manipulation that recalls "Souls at Zero"-era Neurosis. This hybridization is more effective than it may sound, as Withered succeeded in creating atmosphere with a well-rehearsed application of various effects pedals and thoughtful interchanges between guitar, bass, and drums. Vocals were standard variations of screams and growls, but the vocalists proved to be savvy in knowing when to back off and let the music speak for itself. Even more impressive was the performance of the unit's powerhouse drummer who displayed flair and blinding velocity on a very minimal kit; his triplet blast-beats with no sign of cheating or fatigue garnered many cheers throughout the set. The band as a whole executed their songs in a manner that reflected intelligence, conviction, and an almost idealistic brightness rarely seen in the metal underground circa 2007, and for that they should be commended.
Watain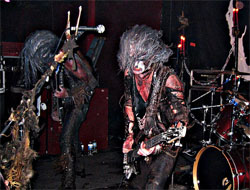 Watain was preceded by the orange funk of carrion that was hung on iron poles around the stage like some kind of perverse holiday display. A synth-orchestrated introduction brought them to an enthusiastic crowd, and then the band voraciously tore into their set. The sound was a bit anemic and the band's musical dynamic was stripped down due to their regular second guitarist being barred from entering the US, but it was a solid execution of material predominantly from "Sworn to the Dark" with tracks from "Casus Luciferi" and a single number from "Rabid Death's Curse" to mollify the purists. Vocalist and de facto bassist E. Watain was appropriately the center of attention with his deranged and snake-eyed countenance that is just as charismatic as it is confrontational. He is not a large man so it is always impressive to hear a such gigantic voice rising out of him. He also seemed to be speaking in tongues or perhaps reciting incantations while not on the microphone, and it helped further the sense of madness on the stage. Watain's latest album has been derided by some as too polished and too accessible, and while these charges aren't wholly unfair it should be noted that the band has refused to give way to brevity in their compositions; most of the songs clock in at around six minutes and as such they are allowed to build and breathe to greater effect. One of the highlights was their rendition of "I Am the Earth", which best summarizes Watain as a whole. Grandeur, violence, and passion are all equally present in this song, and the only thing that comes close to touching it is the current album's "Stellarvore", which also made its massive presence known this night. Ultimately, the Swedish quartet succeeded in their mission by living up to their infamous reputation along with creating many new converts to their cause. Music aside, they deliver some of the most dangerous showmanship since an odd young man named Per Ohlin took up with a death metal band from Oslo.
– Written by David Anzalone
Bands:
Watain
Withered
Ritual Killer
Sarcolytic
Promoters:
Red 7