Insecticide, Temple of Wrath, Last Rosary, Deadpool and Opia
September 27, 2008
Walters on Washington
4215 Washington Ave.
Houston, Texas 77007
Insecticide crafted thrash when it was a current item, and have not only not given up but have returned to reclaim the void left by metalcore and deathcore, which prove even to diehards to be as insubstantial as sugar-free, salt-free, oil-free donuts. Since they were playing in our favorite blazing moist flat wasteland of an industrial city, Houston, I leapt in my urban transport and hit the road.
Opia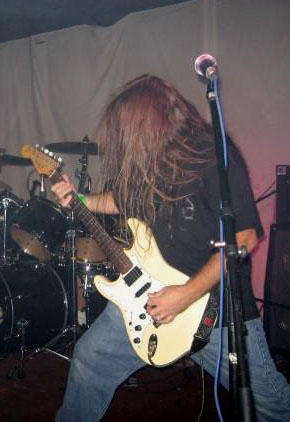 Coya was billed on the flier for this show, but were replaced by Opia, who were already on stage at 9 pm when I arrived. They consisted of a drummer/vocalist and a guitarist. I quite admired this, because it is not easy to get up in front of a mostly empty room to play with such a sparse line up. I've also always been impressed with drummers who managed to be a main vocalist. They played solid, minimalist speed metal. After a couple songs, the guitarist took the microphone from the drummer and performed the vocals for the next song. For the following song, they switched instruments completely, with the drummer resuming vocals while taking on guitar duties, and the guitarist taking on the drums. This rare display of musicianship reinforced the raging wall of sound they were producing.
As one might imagine with such a lineup, their performance focused heavily on rhythm, with riffs that captured the dynamic space of time in which hardcore punk, speed metal, thrash and nascent death metal merged in the imaginations of those brave enough to explore such uncharted waters. Opia showed a lot of potential, and I believe they can continue to put on interesting shows if they do not resort to bringing in people who are going to divert them from their current course. Only time can tell. A valiant early effort on their part, and I applaud them greatly for their risk taking.
Deadpool
Next came Deadpool from San Antonio. They played standard Texas "hardcore" metal in the vein of Pantera. They had a song named after themselves called "Deadpool Society." With them came the obligatory 24 people who follow any band in Texas, and show up only when that band is playing, enforcing a kind of tax on all underground bands that requires they include others, or be excluded themselves. Unfortunately, this leads to completely mixed up line-ups like this current show, which combines radio speed metal (Pantera, Deadpool) with bands closer to hardcore or death metal.
Last Rosary
The third act of the evening was Last Rosary from Houston. They tout themselves as being "Progressive / Grindcore / Death Metal." I did not hear this in their sound at all. Their frontman was a runt with glasses and an emo haircut who screamed the entire time in the screamo style, while their riffs and songwriting technique were of the metalcore "throw everything in a blender, and be as random as you can" style. The result is not only songs that are not memorable, but a lack of any articulation but confusion, which I can get for free outside.
Temple of Wrath
Houston band Temple of Wrath followed. I noticed that they have the same drummer as Last Rosary, David Ramirez. The crowd peaked for this band. Clearly they had their group of friends and people who thought they were quite good. They inundated us with more generic Pantera-inspired Texas metal. It is unclear if they will make the transition from the local scene to the outside world; when you are selecting within a set of numbers, you can pick the highest one there, but it may not be high enough to be significant outside that limited set. I think it is this way with many local scenes, but it is hard to say that Temple of Wrath were unmotivated or unprofessional. On the contrary, they did their best.
Insecticide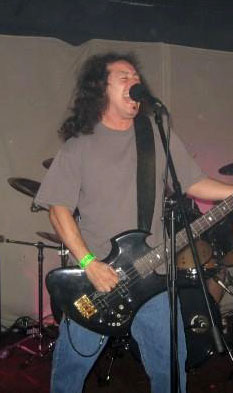 Finally, Insecticide emerged, and all hell broke loose. Playing classic crossover thrash reminiscent of later COC colliding with Dead Brain Cells with Cryptic Slaughter on retainer, Insecticide incited the crowd into a frenzy. The crowd changed completely in the 15 minutes between Temple of Wrath leaving the stage and Insecticide taking it. Although fewer people were present, this was a different audience that was left over, a more deliberate and experienced cross-section of the metal crowd. There was more movement for this band alone than all four preceding bands combined.
Comedy broke out in the pit. Children's inner tubes were being thrown chaotically. A luchador mask was passed around the crowd, ending up on the drummer for one song. The only real pit of the night broke out. Everyone was running around the stage. Sherman Jones, the bassist/vocalist, was running off the stage and twirling around in the crowd while he played. Random audience members would rush the stage and scream vocals into the microphones or just reach up from the floor and grab the microphone from there.
Drumming was active and rushed the music, pushing it to the edge of control. The drummer on the first Insecticide demo from 1987 is not the same one they have now. The following year, Rich Rowen played drums for them, laying the groundwork of their present style. Current drummer Alex Ron joined in 2007, which accounts for the discrepancy between the monotonous simplicity of the first demo vs their live performance.
At one point, three different audience members were screaming into the two microphones. Sherman almost fell over someone who was crawling behind him on the stage. Chaos ensued during their entire performance, and it was enjoyably hilarious. The music motivated the crowd toward energy and the drumming was especially ferocious. Insecticide concluded the night with a review of their classic songs and a powerful live performance which I was glad to witness.
Bands:
Opia
Deadpool
Last Rosary
Temple of Wrath
Insecticide
Promoters:
Walters on Washington