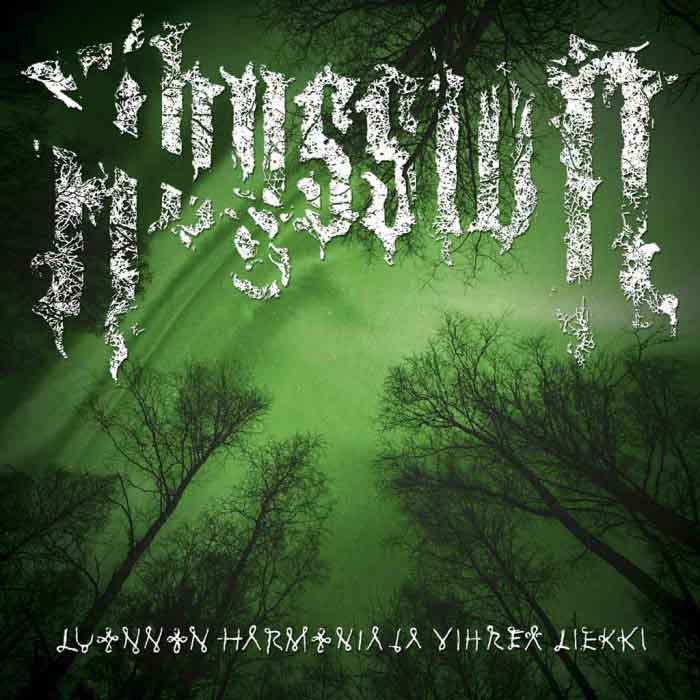 Abyssion is an industrial metal band hailing from Finland, a land that typically has been cradle to some of the most pensive underground metal. Abyssion plays music in that same spirit while remaining pretty accessible, making transparent music that can be absorbed on first listen by any experienced listener.  There more of the indie and the Oi! than the traditional black metal in this music.
While some may feel the temptation to describe this in relation to Burzum based on the music's most superficial traits and on passing and distracted observations, Abyssion's Luonnon harmonia ja vihreä liekki has a lot more in common with Darkthrone's early black metal albums. The difference with either is still clear to anyone intimately acquainted with Burzum or Darkthrone. Burzum's developmental variations have no parallel in Abyssion's music, which works with straight-up repetition and synth distraction. Even in contrast with Darkthrone's dense riffing, Abyssion appears more sparse as it is a more blatant attempt at creating atmosphere.
Here in lies the trap: the artist is not trying to create music but the effect of the music. When music becomes about the effect, an imbalance is created through which the music is no longer solid, nor is the effect lasting, since it is self-referential and insincere. Still, Abyssion's offering is consistent in style and faithful to a spirit. Recommended as a gateway band for fans of Muse into the spirit of underground metal.
No Comments
Tags: 2015, Abyssion, Black Metal, Finland, Industrial, oi, punk