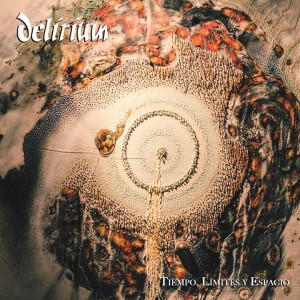 Delirium was formed in 1990 as Delirium Tremens. In 1995 they debuted with a self-titled album considered to be a Central American classic. It was a particular style drawing influences from many different styles of metal ranging from NWOBHM, Speed Metal, Thrash to punk and alternative rock without falling into the carnival approach of modern metal bands. The influences blend and boil down to form an almost concrete and new street-dirty heavy metal style. A close look at Delirium's discography shows how the band has evolved through the years gradually taking in more mainstream influences after having parted from a mixture of early Iron Maiden and Metallica. Looking under the hood of post-debut Delirium one can find a weakening of an original voice and the more obvious influence of 1980s Rush and late, prog-bent Iron Maiden.
Tiempo, Limites y Espacio is a collection of acoustic arrangements of older songs. The band retains a professional musician's touch for pacing and pausing, showing us why they are still one of the leading acts in central america. We find Latin-styled acoustic guitar leads, understated popular drum rhythms along with Latin hand-percussion in some interludes, bridges and intros. Occasional use of maracas for rhythmic emphasis are use in very limited instances. Verses reduce guitar to chords supporting the vocal melody line. Characteristically 1970s synth effects are used for melodies and even a solo on the track Abismo, while the remaining use of keyboard functions are simple and direct organ and piano chord outlining. The refreshing presence of bow instruments grace brief interludes. The aura these exude may remind one of Empyrium's Into the Pantheon, a personal favorite of the writer. It is also clear that the singer is consciously aiming to emulate the overt style of Adrian Barilari, of the late Rata Blanca, and by extension the style of Bruce Dickinson.
What we find here are original Latin street heavy metal and alternative heavy metal styled songs fine tuned and made ready for mainstream radio exposure for quick acceptance with a mainstream audience. This acoustic release (as is any faithful acoustic arrangement of metal music) is a highlight of the qualities behind the music and the songwriting capabilities of the band.
The album can be downloaded for free here.
https://www.youtube.com/watch?v=wphEkDrQq9Q
6 Comments
Tags: acoustic, alt-metal, delirium, iron maiden, latin, limites y espacio, rock, tiempo