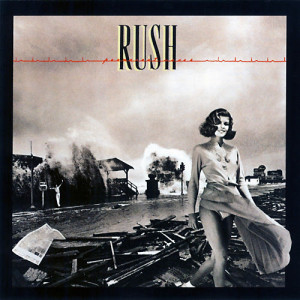 Emerging from a hard rock background, Rush made increasingly ambitious attempts at being on par with the European progressive acts of the early 1970s. Although dubbed a progressive rock band, Rush's music would be best described as a "poor-man's" progressive rock. A naive and straightforward attempt at emulating the workings of the music of more refined bands like Yes or King Crimson. As such it has been one of the most easily comprehensible progressive bands to the general public.
Released in 1980, Permanent Waves is the Rush album that most closely approaches the ideals of the by-then defunct progressive rock movement. Being the highlight of the band's technical competence, here we find Rush at its most bombastic and dynamic. As a preamble to later so-called progressive rock and metal (henceforth referred to as pseudo prog), this album features songs which make use of elements of contrasting musical styles (the listener will even find a reggae-styled section) to break the spell of a mood. In doing so it aligns itself with music appropriate for listeners who prefer a casual but engaging distraction.
Despite this stylistic digressions ,Permanent Waves manages to be generally constant in its artistic voice. Rush's expert and moderate use of synths, the ease of transitions, and the satisfactory clarity of the goals in their structure-building-oriented songs make this release the peak of Rush's works.
https://www.youtube.com/watch?v=vV6k1JRMgN8
3 Comments
Tags: 1980, Alex Lifeson, Different Strings, Entre Nous, Free Will, Geddy Lee, Jacob's Ladder, Natural Science, Neil Peart, Permanent Waves, prog rock, progressive rock, rush, The Spirit of Radio