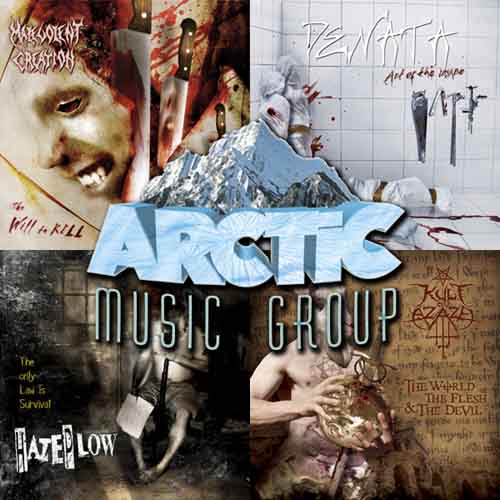 Arctic Music Group (AMG), famed for quality death metal releases at reasonable cost in the early 2000s, will restructure itself into Arctic Media (AM) along with its imprint labels Arctic Music, Frozen North and Punktuation!.
Under the leadership of Julian Hollowell (Kult of Azazel, Hateplow) Arctic Music and Punktuation! will focus on extreme metal and punk. Under Ricktor Ravensbrück (Electric Hellfire Club), Frozen North will focus on electronic and industrial music. Finally, Mike Gallo of SBS Recordings will lead the new label imprint Blue Light which will focus on blues, country, reggae and world music.
Current roster artists include Vein Collector, Kult ov Azazel, Hod, Ptahil, and the most recent signing, iconic electro/rock/industrial act The Electric Hellfire Club. New releases have already been scheduled into summer of 2014. AMG will continue to work with distributor MVD, which will ensure its product will be available in all formats worldwide, both physical and digital. The label plans an emphasis on vinyl and other formats in addition to standard CD and digital downloads.
Viewing itself as a "a label run by musicians for musicians," AMG has pursued musicians of longstanding status in the underground to implement its new vision. The label is currently accepting and reviewing submissions from artists and will also consider licensing existing releases from artists whose current contract terms have expired.
Submissions may be sent to:

Arctic Music Group (AMG)
PO Box 23308
Fort Lauderdale, FL 33307

3 Comments
Tags: arctic music, hateplow, julian hollowell, kult of azazel