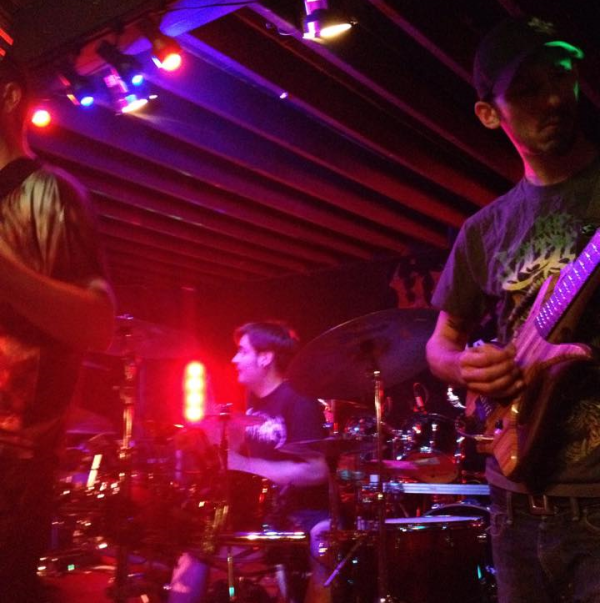 The conclusion of the final West Texas Death Fest leaves me with many questions. Jess and Ramon Cazares — the driving force behind The Fest — will relocate soon, and that not only means that this particular show will be no more but also raises the less comfortable question about the sustainability of metal in our area. The WTDF exists because of their devotion and toil. Losing them may mean losing local metal. I'm not writing about this problem here, but the foreboding it causes provides some context for the story I do want to tell.
The Fest experience this year offered the expected benefits: seeing friends and former students, talking to people from different places, and experiencing a kaleidoscope of death metal subgenres. Internally, I like The Fest because I can behave in a more extreme way than I usually do. As a native analyst, the major draw for me is the wealth of musical data, and I spend much of my time standing back and watching, taking pictures, comparing styles, ranking bands. That said, I'm also an extreme personality making my way in a buttoned-up, even urbane, profession where my initial responses to almost everything must be tabled. At The Fest, I can bang my head right off my shoulders and no one cares; in fact, a stranger next to me does exactly that same thing: absorbs the musical energy, processes it through his or her heart, and gives it back through unbridled physical response. The two processes sustain and create each other, like a heavy metal version of Einstein's theory of general relativity. Extreme metal draws — and draws from — extreme mentalities.
Numerous fulfilling moments arose from this Fest. I communed with some people from my home state, talked with musicians, and lost myself in Abolishment of Flesh's "The Suffering" — that headbanging moment I noted above (and many thanks to the wild redhead next to me, whoever you are, for that moment of anonymous unity headbanging offers). Plainview tech-death band Astringency, who performed immediately before the band that created the moment I'm chronicling, contributed to this experience. They seem to have always gone everywhere together, and their ladies accompany them (some bands brought their parents and kids), so when they are playing, the entire front row knows what's coming. There is an explosion of headbanging that's so perfectly timed that it's a bit of a shock. Many of their fellow townspeople have studied with me at the university, and all of them seem to be musicians. I have surmised that Plainview, TX, seems to produce multi-instrumentalists like other Texas towns produce football teams. Anyway, I was alive after the Astringency set, which was largely new material, humbled and inspired by their astonishing vision and talent. I could have stopped there and been satisfied with The Fest.
But, enough context. The moment has come to attempt a description of the moment that came from the next band's set. Fields of Elysium, a progressive technical death metal band from Santa Fe, NM, followed Astringency (with whom they had recently toured). I'd seen them a couple of times already. The last time I saw them, they said they wanted to "try a new one; we'll see how it goes." It amazed me that they would risk that. They have CDs and a core of fans. They could have just played a show. But they took that extra step.
This time, they said everything was new. I had been listening to them all week before the show. I was expecting to hear some of that music. This announcement reminded me of the risk they had taken the last time I'd seen them. It seemed admirable to me that they would bring their creative process to us like that. I was already so alive from the Astringency set that I just settled in and set the sensors on full.
And perhaps it was this unprepared but receptive state of mind that allowed me to see the magic. They did not play a different version of the same thing. It was better. And they were better. They were better players than the year before, and the year before they had left the audience slack-jawed and enlightened. They were playing their instruments in ways that didn't even make sense to me. The compositions were different, more intricate, more enlivened. All of the band members focused intently on their playing-no acting, just music. While I was watching one of the guitarists sweep-picking, almost like playing a harp, for some reason, everything suddenly felt funny. I looked behind me and discovered why.
The magic had spread. A spell had settled over the crowd and quelled any moshing or headbanging. Fields of Elysium focused on their instruments, and we focused on them. It was still and silent, two of the last responses you might think a band at an extreme metal fest may elicit.
Then it hit me. Maybe it's one of the few places such a moment could exist. Maybe a local fest with a community ethos was the just the place for it to happen — a collection of musically-aware extremists. Fields of Elysium brought us something different. They trusted us with their work. This wasn't about what they'd done. It wasn't about what they were doing at that moment. It was about what they do. They were out on the edge of possibility, of discovery. They were seeking the next note, the next phrase, the next level. They were seeking the nexus to another awareness that only music can open.
And they let us watch.
And at that moment, we were no longer fans: we had become witnesses.
And then witness transmogrified into wisdom.
At that moment, we were able to perceive not just the creative process but its goal: the discovery of beauty, which is forever the essence of music, and which for that moment, made even forever a tangible element. It may have been only a minute or two on the clock, but the experience existed as a microcosmic eternity.
And perhaps only a group of extremists possess the ability to be still and silent when stillness and silence constitute the right approach. It's metal relativity: channeling the atmosphere created by the music, processing it through awareness, and giving it back as the reverent attention the "finite infinity" Fields of Elysium created at that moment required.
The end of the West Texas Death Fest may be inevitable, and no doubt many people will say "That's life." While some moments in our lives — such as the diminution of metal in our region—may be tragic, other moments — such as the one described here, are magic.
I hope we do not lose the magic moments.
No Comments
Tags: astringency, fields of elysium, jess cazares, martin jacobsen, metal theory, ramon cazares, theory of metal relativity, west texas death fest