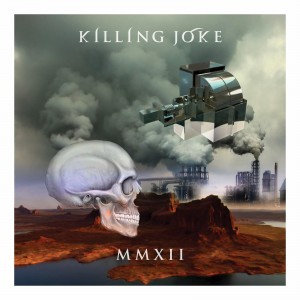 Staying true to roots is difficult because as time goes on and learning increases, one must necessarily spread wings and soar to more ambitious ground. Killing Joke do both on MMXII, an album that showcases the style of their first album as interpreted through a more modern style and revisiting their influences.
Categorizing Killing Joke has never been easy. They sound like they should be an electronic music band, with spacious beats and future pop song structures, but then they add in guitar which sounds like a lighter version of Amebix, and a distinctly sweet-sour male vocal that gives the music an expansive mood and lightens the sometimes intense distortion on the guitars. They augment this with atmospheric keyboards and a throbbing, pulsing aggro-pop bass groove.
On MMXII, the band get closer to their roots in early electro and British techno pop, using melody to lead the otherwise unstoppable fusion of industrial, pop, punk and rock that they wrap into a final product that is both passionate and furious. While this is no way a metal band, Killing Joke has influenced a good many metal bands because it shares a similar mood: mythological, metaphorical, distanced from the human and yet emotional in the sense of someone watching a lovely mountainside burn in a drought.
As fierce critics of the modern life and its favorite crutches, Killing Joke also have a mood that is more punk than the most righteously self-proclaimed punk. This gives the music a surging quality, between a contemplative Britpop melancholy and harmony, and a driving rage during which the vocals distort to the edge of black or death metal territory. The result is an enclosing wall of sound that catches the listener in its emotion.
MMXII presents an amazingly consistent package. While songs are generally verse-chorus with strategic breaks, and cycle around to circular structures that repeat with changes, they are not consistent and each one has a different set of moods. Like actors playing a role in the drama of the album, each seems like a shard of the glass face reflecting the true experience of this album, which is both elaborate and brilliantly compelling.
2 Comments
Tags: britpop, electro, Industrial, killing joke, punk, synth pop