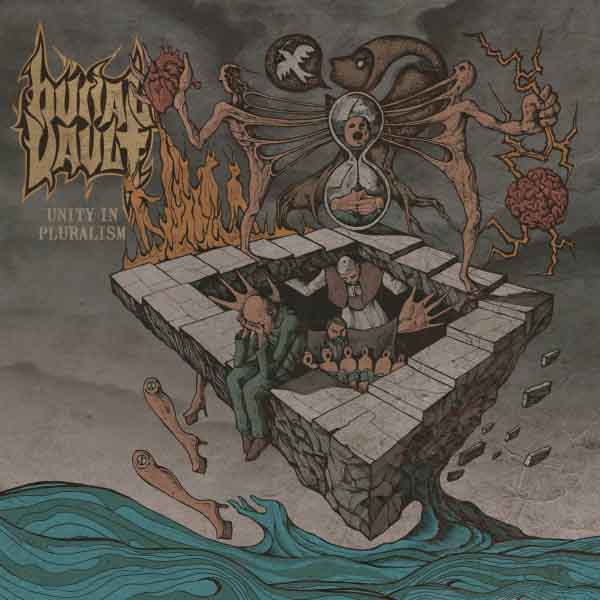 It is easy to recognize that this is a metalcore record. It is also easy for one to point out the problems in the music that arise as a result from the innate flaws of that genre. What is not easy is to understand are the developments that are taking place within some of the current tendencies of underground metal that bubble up even in bands with a metalcore background. From this origin Burial Vault attempts to build songs with strong sense of narrative, linking different sections smoothly with melody and consistent textures and using other devices on the meta-level rather than objective traits in the music structure to built a sort of soundtrack, a landscape to a story. All of this stands both in line and in contrast with the nature of their genre.
Many soundtracks being what they are, background ambience for stories, sometimes take the liberty to place incredibly disparate expressions to the point of incoherence in the music. As a background to the story, this supports the scene and is thus justified as a tool, a means to an end. But when we have music by itself, the music is not (or should not?) be a tool but rather the whole product itself. This is where music like late Dream Theater's fails as music: it is only a background to a story. This is the pit where Burial Vault falls. In its impetus towards building a conceptual narrative, the concrete musical narrative is placed on a secondary level.
Following the precepts of metalcore, large portions of Unity in Pluralism move towards rhythmic hook introducing sharp contrasts that do not preserve the essence of motif-forms or themes. Even breakdowns with no reason to be except for fun make an appearance. The song-form is preserved and contrasting surprises are eventually placed in the place of priority. Song form is necessary for songs to maintain any semblance of coherence, by re-using ideas, lest they fall in near-total chaos and obliviousness to a coherent musical train of thought.
Going beyond the novel, Unity in Pluralism presents flashes of greatness that could be weaved into the fabric of a work that pushes metal forward. The future development of metal lies in its maturing, in its transcending the current subgenres and giving prominence to musical principles transcending both the adherence to cliche and the cult of novelty. Burial Vault have hinted at something, their sense as composers has guided them to stretch the boundaries of their constrictive genre but in preserving its aesthetics they are bound to the innate incoherence it is comprised of, balancing out the good in this album to make an interesting but ultimately overall wanting experience.
In a tug-of-war against the bases of their music, Burial Vault attempt, in some places, linking verse and bridge or solo sections by way of a smooth melodic transition that become almost imperceptible. In their most lucid moments, Burial Vault approach the aesthetics of a speed metal band with true progressive tendencies (that do not disregard consistency and coherence), but these are torn apart by the eventual advent of modern metal stuttering. The band would do well to take a hint from the likes of early The Chasm and bands they influenced like Cóndor (who have definitely a more whole work of art than the older band) from Colombia and the way they integrated metal into a true unity with different types of expression. But pluralism simply will not do. The work of art must be brought together under an over-arching principle that permeates the part, the whole and the relations.
No Comments
Tags: 2015, burial vault, condor, metalcore, modern metal, the chasm, Unity in Pluralism