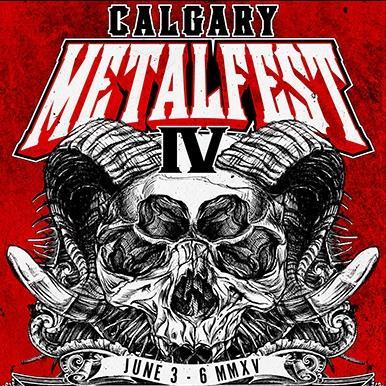 Big Nate Productions presents Calgary Metalfest IV June 3-7, 2015 with over 40 bands, kicking offJune 3rd at The Ship & Anchor Pub featuring: The Electric Revival, Bloated Pig, Lucid Scream, The Outer, and Woodhawk.
June 4th at Vern's Bar will feature: The Cadavor Dog, Frightenstein, SS Doom, DethGod, Penitentz, After The Prophet, and No More Moments.
June 5th the Main Stage at Dickens Pub will feature: Villainizer (Edmonton), Begrime Exemious (Edmonton), Without Mercy (Abbotsford BC), Neck of the Woods (Vancouver), Vile Insignia, Every Hour Kills, Riot City, and Moosifix. Lord Nelson's Bar features: Mortillery (Edmonton), Dead Asylum (Vancouver), XUL (Vernon BC), Sentient, Path to Extinction, Altars of Grief (Regina), and Skymir.
June 6th the Main Stage at Dickens will feature: Kobra and the Lotus, Into Eternity (Regina), Caveat, Untimely Demise (Saskatoon), Viathyn, Sparky (Saskatoon), Noire (Winnipeg), and Apprentice (Vancouver). Lord Nelson's Bar features: Lavagoat (Saskatoon), Kataplexis, Chieftain, Doberman, Numenorean, Triton, and Okazaki Fragments.
June 7th CMF IV Hangover Party at Distortion – Live Music Venue. Bands to be announced.
Every year Calgary Metalfest has auctioned off a giant 4'x6' festival poster signed by the bands to raise money for Make-A-Wish Southern Alberta. This year will be extra special as Reverend Rock (Ross Ingall) of the Metal Nation Radio program Too Metal For Church (Mondays from 10am-2pmand Fridays 12pm-3pm EST) has generously donated a Schecter Twin Tribal Double Neck Guitarfor the auction. The guitar and poster auction will take place before headliners Kobra and the Lotus go on stage at Dickens Pub on June 6th.
The Ship and Anchor Pub is located at 534 17th Ave SW, Vern's Bar at 622 8th Ave SW, Lord Nelson's Bar at 1020 8th Ave SW, Dickens Pub at 1000 9th Ave SW, and Distortion at 3828 MacLeod Tr. S, Calgary. All venues 18+. Doors for all shows will be at 8pm. Tickets and passes are available online at http://calgarymetalfest.com and at Dickens Pub, Sloth Records (Calgary), The Soundhouse (Red Deer), and from the Calgary bands.
CMF IV is sponsored by Last Rites, Heroes & Villains Tattoo & Piercing, Beatroute Magazine, Absolute Underground Magazine, UA LOCAL 496, and Metal Nation Radio.
Official site: http://calgarymetalfest.com
Nathan Renaud: info@bignateproductions.com 403.404.6283
1 Comment
Tags: 2015, Calgary Metalfest, metal