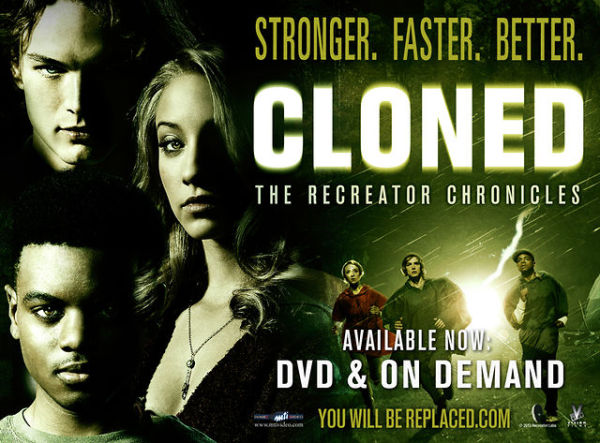 Horror films, like heavy metal, have drifted for the past two decades looking for a new path. A few trends have passed: violence porn, hipster zombie movies, and the incomparable Human Centipede series of dementia. But audiences have converged, and people seek horror films that are brainy and metaphorical like the roots of the genre, yet perhaps with a bit of the sci-fi and social paranoia of the newer genre.
Cloned: The Recreator Chronicles launches into this with a story spun from Mary Shelley's Frankenstein: if science can make a better human, what happens if it's a "better" (as envisioned by humans) version of you? For Generation X, this brings great trauma as we all know our parents would have "upgraded" in a moment. It also calls into question our relations with other people, namely would we hit a magic button to make our friends, lovers and coworkers smarter, faster and better?
Per the usual for horror films with aspirations to "atmosphere," the movie begins slowly with an idyllic scene. Three average people go on vacation. The only glitch is that their chosen destination happens to be on top of an experimental genetics facility. The glitch has a subthread, which is that the facility is still active and samples from its environment for fresh humans to improve. The three fall into its trap and must confront their new doubles who are stronger, smarter and most of all, more confident.
The metaphorical nature of horror movies emerges in full flavor here. While the plot progresses, the questions hang in that dense atmosphere the movie creates. Perhaps if we encounter a better version of ourselves, we should just lay down and die. After all, they fix all that we find tragic and pointless about ourselves. But there are other issues here, much as there were in Frankenstein. Does greater ability alone convey the wisdom and moral character to use that ability well? Perhaps improvements make us more competent, but no more directed toward what we should be doing. Then again, it is hard to argue with a better version of yourself. And from the perspective of your clone, you appear as obsolete as a VHS tape, and if the clone can step into your life and make a better version of it, should it be allowed to happen?
Cloned: The Recreator Chronicles launches viewers down a path of extreme skepticism about humanity through a metaphor which can apply to technology, eugenics or even the cult of self-esteem. While much of the action fits the standard form of personal drama to further a plot, the writers skillfully layer cues to the darker issues beneath which unfold as the movie goes on. Nothing is as it seems. And as this plot races to its nihilistic conclusion, that is as should be.
No Comments
Tags: cloned, eugenics, frankenstein, horror movies