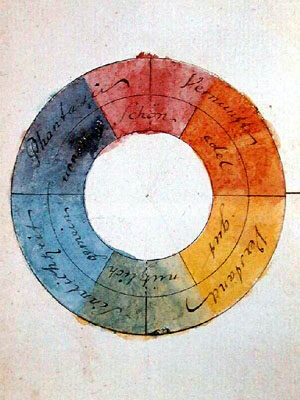 Researchers at UC Berkeley have been doing research into how sound is linked to visual perception, and they are ready to present their initial findings. According to the study, there is quantifiable evidence that correlations between the type of composition and specific colors exist.
Researchers asked participants to pair works with a 37 option palette and found that: "…people tend to pair faster-paced music in a major key with lighter, more vivid, yellow colors, whereas slower-paced music in a minor key is more likely to be teamed up with darker, grayer, bluer colors."
The team repeated the experiment by asking participants to match tracks with facial expressions, with similar results: "Upbeat music in major keys was consistently paired with happy-looking faces while subdued music in minor keys was paired with sad-looking faces. Similarly, happy faces were paired with yellow and other bright colors and angry faces with dark red hues."
They found that dissimilar people reacted similar ways, implying that there is a commonality to the way humans perceive sound: "The results were remarkably strong and consistent across individuals and cultures and clearly pointed to the powerful role that emotions play in how the human brain maps from hearing music to seeing colors."
What does this mean? Beyond confirming what composers have known for years, it provides a scientific framework for investigating how people perceive sound and relate it to other senses. Of particular interest to this author is investigating how these findings can provide information on mysterious phenomena such as perfect pitch or synesthesia.
Perfect pitch is the ability of recognizing any tone by reflex and it has often been linked with color perception – the octave system, much like the visual spectrum is divided into unique tones that repeat infinitely in the same pattern. Conventional wisdom throughout the years has held that it's purely a genetic condition, however, composers such as Zoltán Kodály maintained that the ability could be learned, given enough training.
Synesthesia is the condition where stimulation of one sense triggers a reaction in anther sense – such as seeing colors morph and shape according to what tones ones is hearing. As this research becomes more exacting, creating models of this will be ever more feasible and could one day result in a new type of artistic experience – one in which all senses are activated simultaneously by an artistic work.
That's a long way off though; and for now, much more research needs to be done and the team will start by focusing on seeing if the same results occur in foreign countries with different styles of music: "…Palmer and his research team plan to study participants in Turkey where traditional music employs a wider range of scales than just major and minor. 'We know that in Mexico and the U.S. the responses are very similar,' he said. 'But we don't yet know about China or Turkey.'"
7 Comments