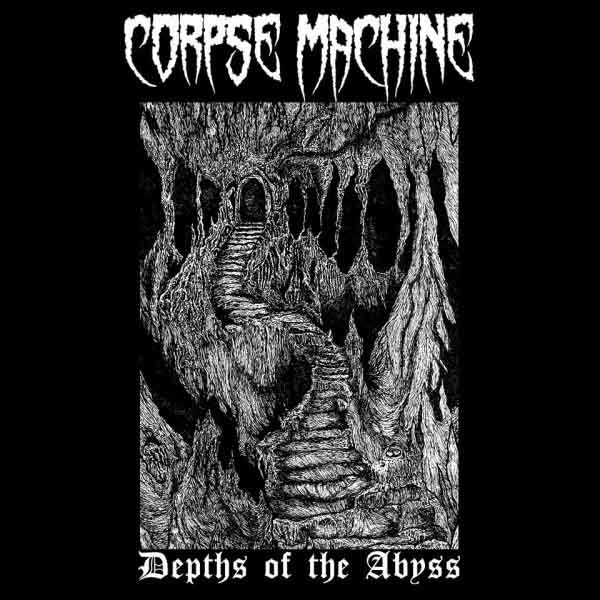 Perhaps you hoped that Venom would put out a technical album without losing the energy of its primitive side. Corpse Machine aims for that gap with a heavy metal album dressed up as death/black metal, using mostly old school heavy metal riffs but concluding its songs in the soaring melodic motions which made black metal a favorite of its audience. Like Fester, Dissection and other heavy metal/black metal hybrids, the result has relatively predictable song structures and high doses of repetition but creates emotional tension through melody and makes songs into little worlds where the listener can cycle through a brief contrast in emotions.
While the stylistic aspects of this album will drive away the purist black metal fan, the underlying melodic composition is good: both compelling rhythmically and harmonically, it creates layered spaces of emotion with simple riffing formed in pairs. When Corpse Machine turn up the intensity the result is more energy behind the music but not a fundamental change in mood. The result seems crushed by its decision to straddle two different worlds, as this would make an amazing heavy metal album but ranks as confused for black metal. In many ways, it represents what Venom should have become if it had chosen to stay current with metal technique, and might fit alongside bands like Gehenna and Dodheimsgard which have a similar approach.
For Corpse Machine to rise to the next level, it makes sense for them to clarify this confusion in style and add more internal tension to give the satisfying moments of this release more power and thus to enhance their atmosphere. Depths of the Abyss shows an aptitude for engaging songs but does not rise to the black metal level of intensity despite having a similar approach to melody. Like other experiments in heavy/black like Dissection and Immortal At the Heart of Winter, it has an almost sentimental tint that amplifies its autumnal and post-apocalyptic sensations, but unlike those the darker parts of its composition cannot quite separate themselves from technique. Still there is great promise here that may develop on future works.
1 Comment
Tags: Black Metal, corpse machine, Heavy Metal