"There must be some one quality without which a work of art cannot exist; possessing which, in the least degree, no work is altogether worthless. What is this quality? What quality is shared by all objects that provoke our aesthetic emotions? What quality is common to Sta. Sophia and the windows at Chartres, Mexican sculpture, a Persian bowl, Chinese carpets, Giotto's frescoes at Padua, and the masterpieces of Poussin, Piero della Francesca, and Cezanne? Only one answer seems possible — significant form. In each, lines and colors combined in a particular way, certain forms and relations of forms, stir our aesthetic emotions." – Clive Bell, Art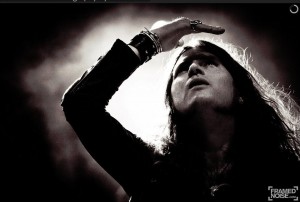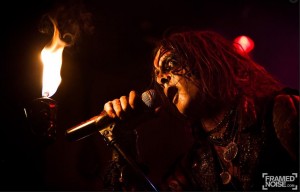 Metal photography often slides off our radar because we have no point of reference. We are familiar discussing the metal scene, but not the metal photography scene. In addition, it's hard to separate the serious from the casual in this realm.
It appears that every musician's girlfriend automatically becomes a band photographer. Usually the result of their concert shooting culminates on social networking sites to flaunt to their friends, or possibly provide evidence that the night before existed before they all blacked out drunk.
However, there are professionals that meddle in this field. New York photographer Peter Beste distinguished himself after releasing his acclaimed book True Norwegian Black Metal which documented his trek across Scandinavia for 7 years in the black metal scene.
Others have taken different paths. Swedish photographer Daniel Falk from Framednoise.com and Close-Up Magazine is often in contact with the protagonists of Scandinavia's music scene. He's become well-known for his work in Europe and is spreading in fame to the USA.
Luckily, he's agreed to shed some light on his craft and motivations:
What inspired you to get into music/metal photography?
I've always liked music. I bought my first album (ABBA!) when I was 6 years old, then I started to play the drums at 8 and saw my first Iron Maiden concert back in 1983.
The photography was more or less by coincidence though. In 2004 I bought myself a DSLR for the holidays and some months later I was invited to a friends concert and took the camera along. I was absolutely crap, got pissed, read a ton to find out WHY I sucked, bought better lenses and shot more gigs. By summer I applied as a photographer at Metalnyheter; a now defunct Swedish metal webzine and I have been shooting ever since.
I guess I just discovered something about myself; that I have a good eye for capturing moments and that I could combine it with my love for metal to create something that others appreciate.
Outside of music photography, what other projects have you shot in the past?
I really don't shoot much else than music. I do wedding photography every now and then when people ask me to, and I went on a photo trip to Chernobyl a few years ago, but that's basically it. I'm not the kind of person that photographs my whole life and brings heavy gear with me everywhere, I need to have a purpose in order to be inspired. I have a few projects in the pipeline but it's hard to find the time and energy, especially since I already have to turn down requests from bands.
Have you exhibited your art anywhere?
I had an exhibition at a café/concert venue called Musikens Hus in Gothenburg back in 2008, but nothing since concentrating on my work. I had several large canvas prints at the Gothenburg Sound-exhibition back in January, but it's kind of hard to find places that want photos of sweaty men on their walls and find sponsors for the prints.
You're known throughout Scandinavia for event photography. How do you overcome obstacles such as poor lighting, moving subjects, ect?
I can't lie, I have GOOD gear. I use expensive cameras that can keep noise levels down and bright lenses that allow me to shoot at the smallest clubs with piss poor lighting. Other than that it's just down to experience. You learn by shooting A LOT. Of course, there are times when nothing works and you feel like you don't have a single usable shot, but I still very much prefer shooting small bands that I like; to larger bands at better venues that I don't care for. I'm not a fame-whore and have skipped several headliners at large festivals just to see/shoot a small band at another stage.
Since you started Framednoise.com, you've been enlisted to shoot for Close-Up Magazine. Has this opened up more opportunities for projects that you haven't thought you'd do?
Absolutely. Through the magazine I can apply for accreditation/photo permits to concerts/festivals around Europe that otherwise wouldn't be very interested in me as a freelancer. I also get opportunities and assignments that force me to push my own limits and step outside of my comfort zone. It also works as a kind of "seal of quality" and obviously spreads my work to new potential contacts. I have made lots of new friends.
What advice would you offer beginners that are interested in music photography?
Know your gear and its limitations. That's my main advice. The more experience you have; the less you need rely on the automatic functions. If you have a DSLR with a simple kit lens stand close to the stage and use the bright wide end of the lens. The next step is to buy a bright lens for those small clubs, such as a cheap 30mm or a 50mm f1.8. Always shoot in RAW-format for maximum flexibility. Flash? Nopes, not until you REALLY know what you're doing.
Start out by shooting friends and local bands, you need experience and if you can handle the small clubs, you can handle bloody well about anything! Be nice. And LOVE the music. The more you like the music you shoot; the better your photos will be and the less you'll care about the countless hours you will spend in front of the computer editing the photos. And yeah, learn the editing part too. It's one thing to snap a photo and another thing to push it to its full potential.
Look at photos that you like and try to figure out WHY you like them; what mood they capture and why they make you feel like if you really were that at that concert.
Are there any historical metal events, like particular concerts or locations in time, that you wish you could have been present to shoot? How would you approach such shoots?
Personally, I would have LOVED to see/shoot Rainbow back in the Stargazer era with Cozy Powell on the drums since he was one of my idols as a young drummer. More recently, I wish I had been at the last Dissection concert in Stockholm, they're such an iconic band that have influenced so many others and considering what happened later those photos probably would have been very emotional and significant for many fans.
And Iron Maiden during the Powerslave tour. I REALLY wanted to go but my sister wasn't too keen on having to look after her younger brother and I had to stay at home ;-( And the stage production was AMAZING! I would have loved to stand there with a really wide angle lense and capture the action. The closer the better!
Feel free to check out Daniel Falk's photography at Close-Up Magazine and Framednoise.com.
1 Comment