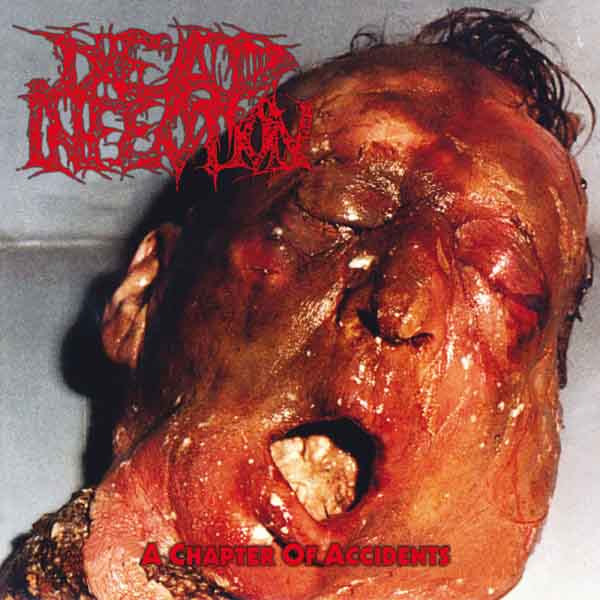 The simpler the music is, the harder it is to execute in an interesting way. The best of grindcore rises to this challenge by inventing ways of making texture expand upon a simple riff idea. Like grandmasters Carcass before them, Dead Infection use a gurgling bass deluge to convey a hidden complexity.
A Chapter of Accidents benefits from its concept, which is anchored in lyrics, and gives to each song a different set of needs because each is a short narrative or story relating an unfortunate and often miserably ironic incident. This bends the song structure to the story, which consists of a setup, a quandary, a revelation and a conclusion, and thus allows the band to adapt its grinding riffs to a simple but not simplistic process of development. As in most grindcore, the main riff repeats with interruptions; some of these are offsets, which are like counterpoints formed of different shapes or rhythms, but others are deviations to small motifs which represent parts of the story. As a result, most of what you hear when listening to Dead Infection is one powerful, thunderous and bounding riff that breaks for contrary views, thought-detours and development by layering, where drums or guitars either double-time or vary texture to add complexity.
Where Carcass is slower and is based on what sounds like 1930s-1950s music translated into power chords and made ironic with grotesque lyrics, Dead Infection is more like a troupe of mercenaries backpacking through the mountains on their way to set up an assassination or coup in that it is self-contained and for its own purposes only. It sometimes plays with riff motifs from the past, like heavy metal riffs reduced to their simplest essence, but essentially it is its own thing: a vocabulary of grindcore adapted to this type of worldview. Combine that with the vocals that sound like a dog guarding the gates of hell, and you have a formidable but thought-provoking package.
4 Comments
Tags: dead infection, Grindcore, narrative, review