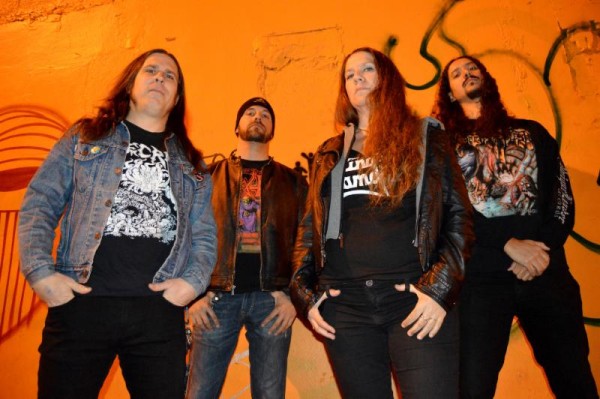 The cast of Gruesome, the Schuldiner-hailing collective featuring members of Exhumed, Possessed, Malevolent Creation and Derketa, today untethers a very special cover of Slayer's "Black Magic." The band's latest reconfiguration of the old-school appears on the deluxe digital edition of the band's Savage Land full-length.
We chose our cover tunes the same way we tried to write the album," relays guitarist/vocalist Matt Harvey. "We just did what Chuck [Schuldiner] would have done. Death was never a band particularly known for their cover song repertoire, but they did occasionally close their set with a rendition of 'Black Magic' and it's a cover that dates as far back as an old 1984 Death/Mantas rehearsal, so we felt it would be appropriate. We were considering 'The Exorcist' by Possessed, since Death started recording a cover of it during Individual Thought Patterns, but since [Gruesome guitarist] Dan [Gonzalez] is in Possessed, it was a bit weird. Again, we tried to approach the song as Death doing a Slayer cover, so… hopefully we came close to the mark.
Gruesome pays homage to the mainstream's and non-death metal listeners' most celebrated American acts, Death. As such, their debut full-length, Savage Land, released last month Relapse Records, is an addictively punishing exhibition of late-'80s/early-'90s Florida-styled death metal that keeps the true sound and spirit of Chuck Schuldiner and Death alive and well.
Gruesome was borne out of guitarist/vocalist Matt Harvey (Exhumed) and drummer Gus Rios' (Malevolent Creation) mutual involvement with the Death To All tours. After discarding the idea of putting together another incarnation of DTA to focus exclusively on Death's first two albums, Harvey half-jokingly suggested writing their own songs in that vein. The idea gained traction, and the band had five songs written. Rios later recruited Possessed guitarist Daniel Gonzalez and Derketa bassist Robin Mazen to record the material in Florida. Savage Land was tracked by Rios and Gonzalez at Riversound Studios in Fort Lauderdale, Florida, mixed by Jarrett Pritchard at Mana Studios in St. Petersburg, Florida, and features a guest guitar solo on "Closed Casket" by James Murphy as well as cover art by legendary illustrator Ed Repka (Death, Megadeth, Massacre, Athiest et el).
Savage Land is out now via Relapse Records on CD, LP and all digital outlets. Physical orders are available now at THIS LOCATION, and digital orders HERE.
"This couldn't come more highly recommended. Buy this and take a trip back to the '80s when death metal wasn't all about blast beats and gutturals." – Stereokiller

"This isn't your crusty, nasty, run-of-the-mill retro death metal. Hell no. This the advanced, dripping-rot-from-the-corners-of-a-coffin, putrid, vile death metal throwback that you've been waiting for. Observe." – Metal Injection

"The enthusiasm alone on Savage Land is awe-inspiring… this is a fun romp through the rehearsal space of a bunch of longhairs who love a band so much it hurts. 8/10" – Exclaim

"…just so goddamned fun." — MetalSucks

"Metal needs more albums like Savage Land… The legacy and sound of Death lives on ever so faithfully through bands like Gruesome, and wherever he is, Chuck Schuldiner is undoubtedly windmilling ferociously and smirking ear to ear at the deathly sounds of Savage Land. 4/5" – HeavyBlogIsHeavy
http://www.facebook.com/gruesomedeathmetal
http://www.facebook.com/relapserecords
http://www.relapse.com
6 Comments
Tags: AIDS, covers, death, Death-Loving Collective Untethers Slayer Cover, GRUESOME, Mantas, possessed, pseudo-death metal, SChuldiner, slayer