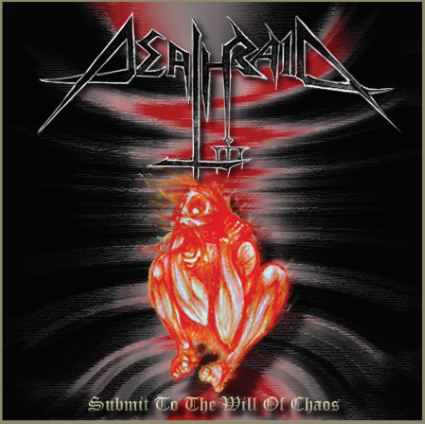 Article by David Rosales
It is always amusing to watch one of these clueless bands take a stab at making an album that falls into the mythical yet non-existent genre of black speed metal. It does not exist for a good reason: it is only a creature in the imagination of those who cannot tell the two genres apart. It is probably also what Venom fans consider to be "first wave black metal". You gotta have some compassion for these nitwits. Or not.
The music on Deathraid Submit to the Will of Chaos (originally released in extremely limited quantities in 2001) is typically messy, grindy and when it comes around to its most clear-minded, it sounds like a try-hard Hellhammer, without the ability to maintain atmosphere and therefore devolving into boring streamlined noise. From the modern perspective, it is just another variation of war metal stupidity or modern "atmospheric" black metal. Irrelevant as it is lame, this may just be what some of us were looking for – it's the perfect music for goat love-making.
No Comments
Tags: 2016, Deathraid, lame metal, Speed Metal, Submit to the Will of Chaos, underground metal