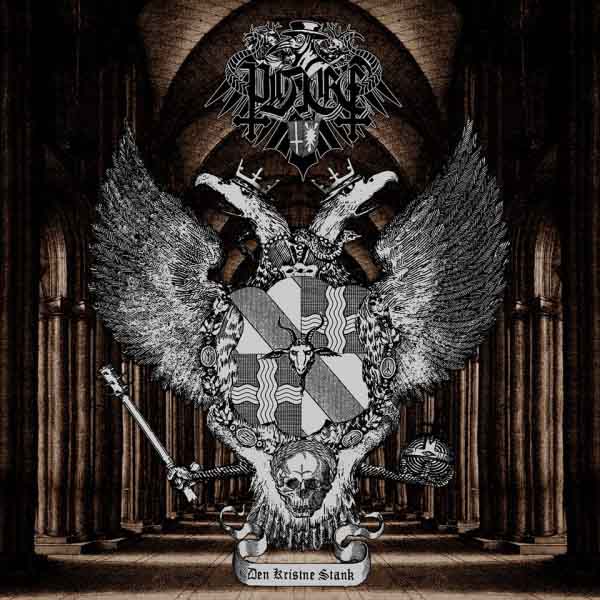 Den Kristne Stank, meaning "Christian Stench" in Danish, is an effort by the band Plague to bring some black metal with occult themes, blasphemy and just the general themes associated with the genre. The music reveals the same intent, applying different approaches to black metal creation but giving preference to the most obviously rock-based instance of it, disguised with intermingled soft blast beats.  In an attempt to bring variety without a clear focus (rather, the focus seems to be the variety of black metal expression) we find ourselves at one point reminded of Kjeld, the next of some pagan folk black metal, but it is the influence of Samael is felt most strongly. The problem here is that the music (obviously as a result of the concept) never zeroes in on a direction — a goal is not necessary, but clear statement and acting out of what you are getting at is important.
On the good side, Plague is actually not wanking or over-indulging themselves. The music creates reasonable structures that connect well-enough with each other flowing smoothly most of the time. The complaint comes from observing its coherence and the picture it reveals. As has been previously stated, the critique is realized in the following manner: first we gather an impression on the whole, from those observations the individual musical elements are investigated and finally a theory rooted in concept is formulated.  Any pair of adjacent steps (1 and 2 or 2 and 3) can be reexamined as many times as is necessary to try and clarify a perspective. Evaluating music as a whole, one should never go from ideology first nor should technical elements be taken as the central aspect. It is always the musical whole that is important. Formulations on intention and ideology are secondary and come as an afterthought and an attempt to explain excellence, focus or deficiencies in the music.
The variety itself is not the problem, of course, but that it is never brought under control by a  higher purpose. Instead of this involved yet forgettable collection of rock black metal techniques and compilation of general themes, I would suggest the reader to imbue himself with this year's EP release by Necrophor, which presents the same degree of musical variety without the technique-collection effect of the former. Consistently with these observations, one may notice how the lyrical concept (or the concept as a whole) of Necrophor's EP is much more precise and clear. Empirical evidence shows the importance of clarity of concept for the realization of focused music. Plague give us an example of a metal release that has everything except that.
No Comments
Tags: 2015, Black Metal, Den Kristne Stank, Plague