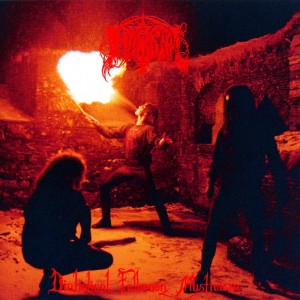 This week I have mostly been listening to…. Immortal – Diabolical Fullmoon Mysticism
Less often cited as a classic than the follow up, Pure Holocaust, Diabolical Fullmoon Mysticism is still to my mind one of the gems of second wave black metal. Some of the transitions between riffs/themes are a bit ragged, and the drummer is clearly not up to much of a standard playing-wise, but there's great charm in this album, and some real magic about the riff-craft at work on it.
Riff-wise, this album is not fully black metal, but borrows heavily from death metal, although the band covers the fact with a cavernous production and droning under parts. Unlike the straightforward melodic approach of black metal the bulk of these riffs are composed in two parts: a modal/chromatic melodic part that becomes more detailed with iteration, and a counter-part that responds to the first idea at a lower register with an oppositional retort. 'Epic' moments are generally more straightforwardly black metal – single-motif melodic ideas with plenty of yearning, emotive harmonies.
The interplay between the epic bits and the controlled-chaos parts are really where this album shows what it's about – an icy warrior outlook that turns whirlwinds of strife into the joy of the fight and the triumph of cosmic forces.
Musically this is also where things can become a bit rough sounding. Sometimes it works really well – Like around the 3/4 minute mark in "A Perfect Vision of the Rising Northland," where themes from the chaotic/violent moments intermingle and then separate again to create an excellent fist-in-the-air, hair-flying-in-the-wind sort of moment. Other times, there's only a steep drop off from one theme to the next; which is a little less satisfying even if the production does a decent job of smoothing over the edges (see certain moments in "Call of the Wintermoon" and "Unholy Forces of Evil" – less obvious when you're just letting the mood of the music take you along, but a bit more noticeable when you're listening more intently. Contrarily though, "Unholy Forces of Evil" is probably a better track on the whole than "A Perfect Vision"…).
This style of riff writing disappears somewhat on the following two (more melodic-riff centred) albums, but makes a return on Blizzard Beasts – which, although also a good album, wears the death metal influence in less of an understated way, taking away from some of the mysteriousness that made the first album special. Unlike with some of the other prominent Nordic second-wavers (Darkthrone, Mayhem, Burzum) I can't immediately think of anyone who successfully and completely took on Immortal's early riff writing style (although Averse Sefira's latter two albums sound like they might've been at least partly influenced). Perhaps this is down to the more technical/complex nature of the band's sound when compared to that of their peers, and the hyperactive, difficult-to-repeat playing style of Demonaz. As well as being a quality album then, Diabolical Fullmoon Mysticism is also an interesting hint at where black metal might've gone had it stuck closer to death metal ideas of riff creation.
12 Comments