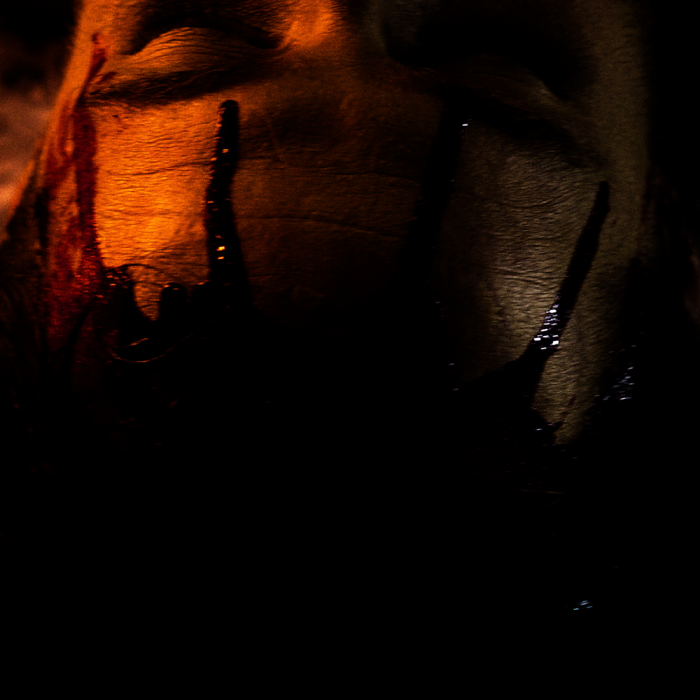 Turkish provocative avant-garde black metal band Blliigghhtted releases its latest, Kosmoskampf, via London-based Merdumgiriz Records on December 24, 2015. Death Metal Underground presents a live stream of the album for you to hear before ordering.
Live Stream:
01. Laughing Siblings

02. In Absu's Absent Presence

03. And Tiamat's Present Absence

04. Nepheshous

The band issued the following statement:
The audial part of the Kaoskampf project, which also includes a 16mm film, is 4 epic songs of purist black metal in its most innovative and spiritual form divide the 44-minute album. Emir's signature bassy vocals reign over a technical chaos of his slithering hypnotic guitars and Merdumgiriz' off the wall explosive drumming. It would be just to claim that these three musicians who have been continuously banned from every platform and circle for their shining of truth has reached their pinnacle in audial craftsmanship with this album. The music takes many forms including doom lead parts stitched together by fast and relentless black metal to strong melodic death metal marches. This album, along with its poetic lyrics of chaos myth that take its essence from the Chaoskampf theme and runs with it in the timeless self exploration and destruction of mankind that is "theology". This raw but powerful as fuck production will be released through Merdumgiriz where Emir hand makes all the tapes, all this brings to mind the best of underground times in the 90ies. The innovation is embedded in tradition just as light is embedded into blight, this album is an epitome of doubt, hΩpe(lessness) and devotion thereof.

Formed by Ruahanathanas known for her work in VIRANESIR. BLLIIGGHHTTED is a psychodrama for exploring the history and philosophy of dark spirituality through correlations and juxtapositions of tradition and degeneration in essence and form. Current members include filmmaker-musician Emir Togrul of YAYLA and the idiosyncratic drummer Merdümgiriz. The project is releasing the fourth album through Merdumgiriz Records December 24th.

As with all his work on Merdumgiriz Records, Emir Toğrul's grand vision, each copy of Kosmoskampf CD, Tape, t-shirt and patch will be made by hand in the artisanal style. Emir paints the discs, cuts and inserts the prints for the jewel case and jacket, making all non-machined parts from scratch. All current and upcoming merch comes to fans direct from the hand of the creator himself.
Line-up
Emir Toğrul – Guitar, Bass, Vocals
Ruhanathanas – Vocals, Lyrics
Merdümgiriz – Drums
Tracklist
Laughing Siblings
In Absu's Absent Presence
And Tiamat's Present Absence
Nephesous
Below is the Kaoskampf film:
https://www.youtube.com/watch?v=PYWviLc4LNI&feature=youtu.be
9 Comments