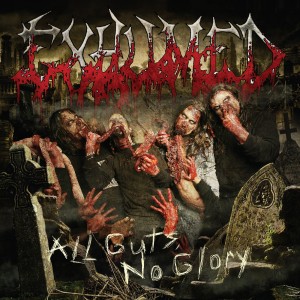 One of the first bands to combine high-energy grindcore like Terrorizer with simplified death metal like second album Entombed, Exhumed created an audience for their unique and gore-splattered approach. After years apart, they have returned and are embarking on a European Takeover to support their latest release, a song called "The Beginning After the End" on the Patlapse Tribute Compilation, a tribute to Relapse staffer Pat Egan.
Vocalist Matt Harvey said, "We're psyched to be back in the olde world for the Summer, exploring every available nook and cranny of Europe and subsequently filling them with empty beer cans, barf, and a hellish racket. We're here to spread the word about our upcoming record that's coming out in August, play some killer underground festivals, and enjoy some more flavorful beer for a change. It's also killer to finally be in Europe with our ever-present staff physician, Dr. Philthy, which will allow us to do our full stage show in Europe for the first time, so it should be a good time for all in attendance. We're here for quite a while, so we may even accidentally acquire a little class and culture. But probably not. See you all in the front!"
Exhumed will release a follow-up to 2011's All Guts, No Glory as a full-length set for release via Relapse Records later this summer. The album was recorded at Arcane Digital Recording in Chandler, Arizona with Ryan Butler (Misery Index, Landmine Marathon, Phobia). All drums were tracked at Trench Studios in Corona, California with John Haddad (Hirax, Abysmal Dawn, Intronaut). Commented Harvey: "'The Beginning After The End' is something we did during the latest recording sessions, so it will give folks some idea of the sound and vibe of the new record.
EXHUMED European Takeover 2013
5/08/2013 The Exchange – Bristol, United Kingdom
5/09/2013 Star And Garter – Manchester, United Kingdom
5/10/2013 Franceed Zepplins – Cork, Ireland
5/11/2013 The Pint – Dublin, Ireland
5/12/2013 Voodoo – Belgiumfast, United Kingdom
5/13/2013 Audio – Glasgow, United Kingdom
5/14/2013 Trillians – Newcastle, United Kingdom
5/15/2013 The Hairy Dog – Derby, United Kingdom
5/16/2013 The Garage Upstairs – London, United Kingdom
5/17/2013 May Day Mosh Day – Stockholm, Sweden
5/23/2013 Dna – Brussels, Belgium
5/24/2013 K19 – Kassel, Germany
5/25/2013 Extreme Fest – Hünxe, Germany
6/01/2013 Kulturfabrik – Lyss, Switzerland
6/02/2013 Korigan – Luynes, France
6/03/2013 Le Saint Des Seins – Toulouse, France
6/04/2013 Estraperlo Club – Badalona, Spain
6/05/2013 Tba – Zaragoza, Spain
6/06/2013 Sala Barracudas – Madrid, Spain
6/07/2013 Tba – Valencia, Spain
6/08/2013 Sala La Trinchera – Malaga, Spain
6/09/2013 Open Air Areeiro – Areeiro, Portugal
6/10/2013 Tba – Ponferrada, Spain
6/11/2013 The Class – Gijon, Spain
6/12/2013 Tba – Donosti, Spain
6/14/2013 Tba – Paris, France
6/15/2013 Tavernu Du Theatre – La Louvière, Belgium
6/17/2013 Jc Cerberus Hengelo – Hengelo, Netherlands
6/18/2013 Hafenklang – Hamburg, Germany
6/22/2013 Metal Fest Open Air Poland – Jaworzno, Poland
6/23/2013 Kilkim Zaibu – Varniai, Lithuania
7/05/2013 In Flammen Open Air – Torgau, Germany
7/06/2013 Obscene Extreme Afterparty – Trutnov, Czech Republic
7/17/2013 Vlamrock – As, Belgium
7/23/2013 Metal Days – Tolmin, Slovenia
7/24/2013 Garage – Munich, Germany
7/25/2013 Eisenwahn – Obersinn, Germany
1 Comment
Tags: death metal, exhumed, Grindcore