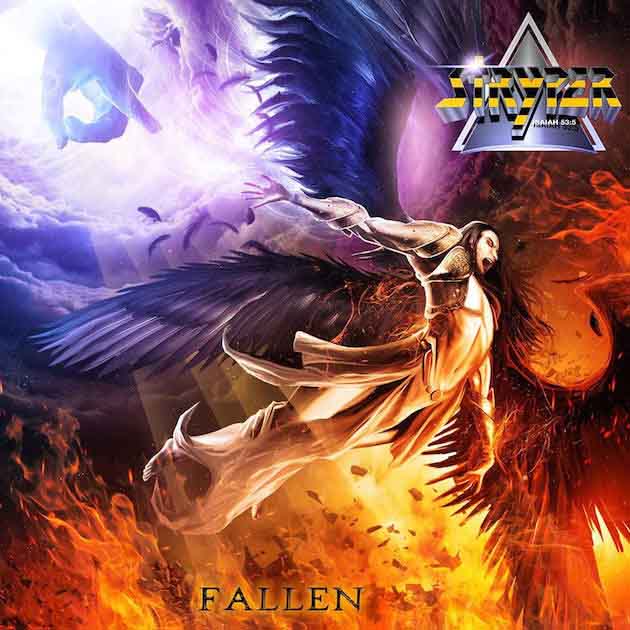 Christianity as an 'attack' on metal might not be as trendy as it used to be, but Stryper never got the message. They reformed in 2003, and someone out there has to be buying their albums, right? The Billboard 200 seems to think so, and the existence of Fallen means, at the very least, that there is still an audience of Christian evangelists that a shrewd marketer can take advantage of. Add to that a more technically skilled visual artist for your cover and some minor updates to your image to make you trendy for this decade, and you get a more religiously acceptable way to listen to some modern pop music and then quickly forget about it.
Make no mistake about it – Stryper is certainly Christian propaganda. I don't think anyone goes to Stryper looking for an intelligent portrayal of Christianity's tenets (as opposed to said propaganda), but I could be mistaken about this. They certainly won't succeed, because Fallen sticks to a fairly basic set of lyrical/ideological templates. A couple of songs here are simple retellings of scriptural events. A few others are songs of victimhood and impending eternal salvation, which are also theologically shallow. Like many other Christian musicians, Stryper also falls victim to the tendency to write thinly disguised secular love songs, but that's hardly a selling point. I wasn't expecting otherwise from this band, but given how many anti-Christian bands fall through the DMU meat grinder, it's occasionally interesting to see another side's agitprop in comparison to their rough equivalent here, like generic simplified Satanic or nationalist themes.
Backing this up is a fairly generic hard rock band that admittedly trends more pompous and theatrical than average for the style. This is likely a throwback to the band's "glam" past, but it makes for an understandably vocal heavy experience. Michael Sweet is a reasonably talented singer, but he seems to obsess with multitracking his voice, especially during Fallen's multitude of Big Dumb Choruses™. Besides the vox, there really isn't much to latch onto here. It's possible that more traditional metal technique has crept back into Stryper's sound since their halcyon days of commercial success in the 1980s, but with 30 years of production wizardry in the mean time, it can be hard to tell. The band also throws in a cover of Black Sabbath's "After Forever" for what are presumably lyrical reasons, and even in its more vocally bombastic form here, it outdoes Fallen's originals in mood and organization. It does not bode well for you to be outdone by your choice of covers.
In the long run, Stryper is too inoffensive to draw my hatred, but I am certain the local community will be more than willing to savage this album.
19 Comments
Tags: 2015, christian metal, Christian Metal Isn't Metal, fallen, glam metal, hard rock, mainstream metal, stryper