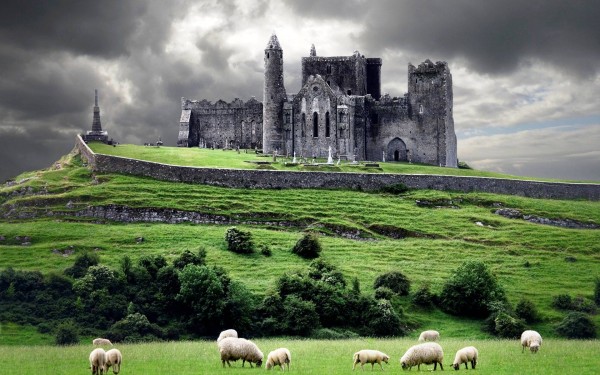 Every metal fan knows it: the look of incredulity on someone's face when halfway through a conversation you mention that you listen to heavy metal. It's a look that says, "Hmm… He seemed otherwise sane and cultured when we were just talking… Didn't notice he had any problems understanding society's unspoken rules on personal space or (sniff) hygiene… Why would he listen to that neanderthal drivel?"
That look presupposes a tired old trope of modern culture which is that the enlightened listen only to sensitive indie bands who sing about either love or "social issues." These bands sing softly and semi-ironically about real world things like love, heartache, drugs or the quest for world peace. In contrast, metal embraces comically violent and magical subjects fit only for basement-dwelling neckbeards who play D&D on Saturday nights and rednecks who wear kitschy looking t-shirts with pictures of wolves howling at the moon on them. This "enlightened" mentality is similar to the trendy outlook that presumes all smart people should care about the same fashionable political causes.
I listen to metal music with its fantastic lyrics and imagery — rather than music with lyrics about real world stuff or political fashions — because it's an escape. After I'm done hearing about the dramas of my friends, co-workers and families the last thing I want to do on my own time is listen to someone else croon about all their problems. Real world subjects are depressing to hear about precisely because they're so commonplace and everyday. This includes the political, because the only reason people talk, sing or demonstrate about political issues is to make themselves look cool, which is a way to get new girlfriends, meet drug connections and gather around a social group.
Metal to me is anything but escapist. It is metaphorically accurate where the idea that human drama describes the universe is solipsistic. Nature is mercilessly hostile to human life, which can be snuffed out at any minute and one day inevitably will be. I spend much of my time contemplating the finality of death and the implications it has for our everyday choices and morality. Metal music by focusing on the bigger things — and by having an often ruthlessly dark sense of humour about human frailty — reminds me of the bigger questions in life and reflects the topics I think are really worth talking about.
Even more, metal gives a certain hope by expanding our view of the world beyond personal drama and political fashion. In a society where secularism and scientific rationalism have all but won out, it's nearly impossible to believe there is anything magical or esoteric about the world. Whilst I am quite happy we live in a time when backwoods superstitions are not the basis of our science and medicine, there is something nonetheless dispiriting knowing there's no such thing as miracles, no demons or sorcery, and no great cosmic quest to set ourselves to, just the weekday commute and a beer in front of the TV whilst watching sports on the weekend. That we live in a universe ordered by mathematics and the office timesheet. I think most metalheads recognise this and secretly yearn for an excuse to be able to see their world in terms of something grand and magical, whether that be through the prism of The Lord of the Rings style epics or by believing that reality is all ultimately a battle of wills between God and Satan.
H.P. Lovecraft, who is not surprisingly the biggest influence on metal lyrics in literature, articulated this kind of feeling about the modern rational age better than anyone else. A fervent advocate of the secular and scientific way of thinking as the only way to understand our universe, Lovecraft nonetheless posed his fiction as a great cosmic gambit: what if we're wrong and the universe is in fact populated by powerful forces and beings beyond our control and far beyond the possibility of our comprehension? In other words, what if what we think is "rational" is in fact our own human projection and nothing else, and we will not find out until something dark and unseen attacks? Ph'nglui mglw'nafh Cthulhu R'lyeh wgah'nagl fhtagn!
For me, what begins as a question of why someone would listen to Ildjarn and not The Smiths ultimately boils down to how one views the world: either to see everything as knowable and within the grasp of human understanding, if we only figure out the maths behind it; or through the metal lens which views humans as tiny, arrogant and probably doomed. The former to me seems painfully dull and conformist, whilst the latter is dangerous but leaves plenty of possibilities open and ready to be explored. This is not a dichotomy between science and religion, because metalheads accept science, but a question of forward decisions: looking to what is important, what paths we should explore, and what might inspire us to be "better," instead of merely safe, logical and inoffensive as science can advise us to be.
This conflict exists between a worldview that is hubristic about the capabilities of humanity ("Peace, science and John Lennon CDs will save the world!") and a worldview that is more suspicious of straight and narrow paths. This second worldview that thinks there is always an undiscovered frontier over the next hill, always a need to veer off the well-trodden path, always going to be a reason to have to get your hands dirty. A worldview that embraces the inconveniences, imperfections and overall strangeness of being alive as actually part of the beauty of it. It rediscovers humanity by escaping our notion of humanity as perfect and instead looks to a universe of perpetual conflict and destruction for meaning. This is the world of metal and it is more real than your safe and trendy indie rock will ever pretend to be.
25 Comments
Tags: fashion, Heavy Metal, indie rock, unpopularity