Some classical music incorporated morbid themes, but most metalheads look back to Black Sabbath being the first to incorporate occult themes into their music. Tony Iommi and Geezer Butler have both been noted for dabbling in the dark arts, while their vocal counterpart Ozzy Osbourne publicly denounced any Satanic undercurrents. Their label Warner Bros was more than likely the cause to establish their occult image in the press. From this point on, the dark arts have been subject matter to innumerable musical acts and has become steeple in the extreme metal community.
Gilles de Rais from US Black Metal band Teratism has released his grimoire, "Black Magic Evocation of the Shem ha Mephorash".
Excerpt from its press release via Negativity Records: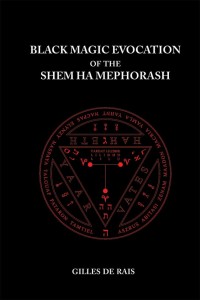 "The Shem ha Mephorash or Explicit Name is a list of 72 angels derived by ancient occultists. Combined, these spirits are believed to comprise the secret name of the Creation of the Universe. Now, for the first time, these angels are uncovered and illuminated, presented with detailed information and spirit signatures, enabling witches and left-hand-path magicians to access their energy and interact with them through ceremonial conjuration and black magic. In essence, Black Magic Evocation of the Shem ha Mephorash dissects the Abrahamic creator Deity into 72 segments and empowers brave witches everywhere to ritually evoke them into conscious interactive manifestation. Included are exhaustive tables of hours, days, weeks, months, planets, elements, and sacraments, all the information needed to bring the spirits of the Shem ha Mephorash, the most powerful name in western occultism, to life within the magician's ritual chamber."
 
Q&A with Gilles de Rais:
Where do you think the occult first gained momentum in Metal?
I don't know: Black Sabbath? But that thread really goes back to the Blues, which is a form of apostate gospel sung by those who wanted to get drunk and laid on Saturday night more than they valued getting saved on Sunday morning. Moreover, the idea of magick hidden in music (or music as a form of magick) goes back to the dawn of civilization. The book of Genesis talks about the fact that music and musical instruments were invented by Jubal, one of the sons of Cain, the first murderer and a symbolic type of the Antichrist. Even though the book of Genesis is fictional, its poetry, symbols and imagery derive from archetypes in the shared collective unconscious going back to before Sumeria. To quote the old adage: the Devil writes the catchiest tunes.
You go by the saying 'Do What Thou Wilt', which stemmed from Aleister Crowley's teachings. My personal take on this saying is more of a metaphysical one; meaning that we should harness our wills into the most impactful manner possible. Then again, there must be meaning behind our wills. If they are aimless, they shouldn't be focused upon. How do you equate this saying in your day-to-day life?
The statement "Do What Thou Wilt" is misunderstood. Everyone seems to want to take orders and always looks for some new commandment. It is not a commandment. It is a simple admission that the laws of physics provide the limitations of human experience, not what your priest, pastor or rabbi tells you. It is simple, elegant, flatly amoral statement and should be left as such and not tagged with any asterisks, addendums, modifications or apologies. The morality should come from your own conscience and the fact that the temporal lobe of your brain gives you the ability to ponder the consequences of your actions and act accordingly.
What inspired you to write this grimoire?
I wrote it to consolidate the wisdom of a growing library of books on the occult — 700+ and counting — that I have collected over a lifetime, and from my knowledge of those books, synthesize a functional, cohesive, unique system of left-hand-path meditative and mystical Satanism as a way of providing a foundation of legitimacy to creating music under the titulary umbrella of Black Metal, which I personally believe begins and ends with the transmission of Satanism and demonology.
In the process of researching for that book, on which I am still working, I attempted to gain some understanding of the Shem ha Mephorash (Shemhamphorash) due to the fact that (1) it is ubiquitously referred to in Satanism and black metal, and (2) i could not find any authoritative, complete books on the subject. This book (Black Magic Evocation of the Shem ha Mephorash) is the result of my findings.
How would you differentiate Luciferianism and Satanism?
Etymologically, Lucifer means light bearer and the name primarily refers to Satan as the descending archangel who brings forbidden illumination to witches (and mankind). Satan means "adversary" or "accuser" and it refers to the role of Satan as an enemy of the herd, as a liberator from the commandments, restrictions, subjugations, and shackles of the right-hand path, and an instigator of insurrection against the tyranny of Light and the murderous blindness it engenders in its devotees.
Esoterically, some schools view Lucifer as Satan in his "pre-fallen" state as an archangel, and so their roles often differ in terms of how they are approached in occult ritual when accessing the two figures within this specific mythological paradigm.
Generically used, however, the two words can be interchangeable because you are drawing water from the same well. It should be noted though, that my answers are terribly condensed and incomplete, and that these two words also have as many meanings as there are practitioners of both disciplines.
What literary work would you impose on our readers that are interested in the Dark Arts?
Start with the Bible and the Koran to gain a healthy sense of contempt and rage for the mindless, savage, hysterical, phobic herds of the Right-Hand Path. When you are sufficiently outraged and ready to take action and see what the sitra ahra (other side) has to offer, you might begin Three Books of Occult Philosophy by Henry Cornelius Agrippa, which is a graduate course on Western occultism. In terms of taking the elevator all the way down to basement level 666 and drinking the poison of Sammael right out of the genie's bottle, go to Amazon and enter "Satanism" and "Black Magick" and enjoy.
Is there a direct correlation to your book's subject matter to Teratism's lyrics?
That's best left for an interview with Teratism. They'd flay me alive and put me on their altar if I went into that here.
7 Comments
Tags: Black Magic Evocation of the Shem ha Mephorash, grimoire