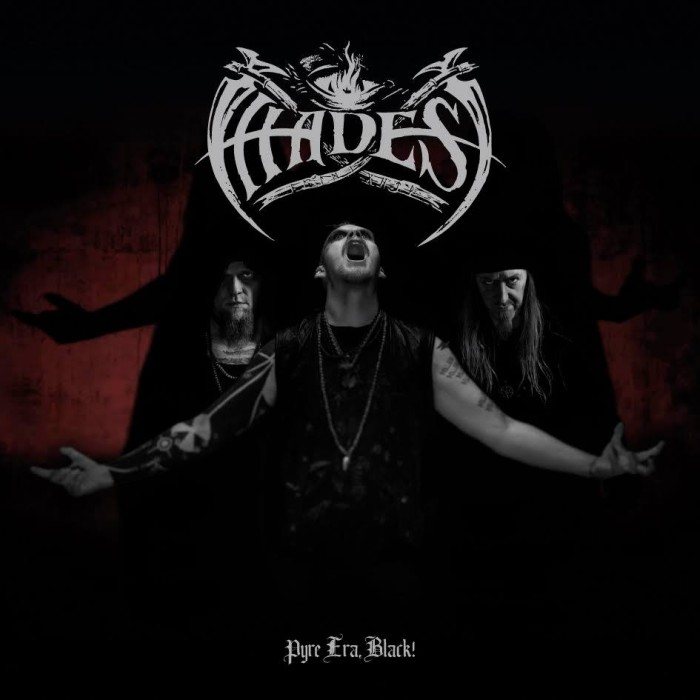 Review by Daniel McCormick
According to the FBI, 90% of arsonists are male, and usually white. Studies show that these perpetrators are young, angry, and often acting out of a belief of revenge. The founder of Hades Almighty, Jorn Tunsberg, was 22 when he decided to make a "statement to breakdown Christianity" and proceeded to torch the Åsane church in Bergen, Norway on Christmas Eve in 1992. This flair for dramatic communication, based in anti-Christian sentiment and pride for heritage, is still forging quality metal after all these years. Enter Pyre Era, Black!, the first album released by Hades Almighty in nearly a decade and a half. This EP clocks in at just under twenty minutes and consists of three tracks with rather ambiguous titles. Because of the ambiguity I didn't know what to make of this prior to actually hearing it, but I was skeptical. Luckily, upon my initial play through, I was happily surprised while also finding the direction had gone somewhere unexpected.
The music is reminiscent of prior Hades material, but with a diminished black metal feel, and a greater focus on cleaner texture and ambiance that lends a modern body to the traditional Hades sound. This is embellished by a well mixed depth in the structures that actively engages the listener, and by building within the repetition via a variety of ideas that keep the experience from growing dull. This is backed by a crushing rhythm section that is a perfect fit to the style. The vocals on the album are consistent, well laid out, but done in a mostly folk/viking style with very little in the black metal voice of old.
Of the three songs the final track seems the most interesting and developed, and I hope to see Hades advancing more in this direction. It differs from previous works of Hades by incorporating greater accessibility, a more stylized tonality, and also by incorporating a sense of abstraction into supporting ideas. Despite its less than ingenious title this track has an extremely creative mixture of things going on: from stand out bass work to well dispersed acoustic/ clean guitar to a peculiar industrial break to oddly melodic screaming etc. I find my tongue nearly tied to explain the diversity, there's a progressive, folk, black, viking, original thing going on here that is just beyond the scope of a great number of generic modern acts. Which is more to say that it doesn't try, but is; a sound denoting inspiration not aspiration. The arrangement seems an orchestration with an 'inner law' as Nietzsche defines, "relative to an individual culture."… …in this case, to true Norwegian metal. Particularly in the main portion of the final track, running from about 01:00 to 07:00, one finds a mix of nontechnical riffs with hammering aggression in accentuation, and an emotional, black ponderance arising in the revolving tonic chord which therein is impressed with a number of tension inducing, numinous evincing, foreground embellishments.  A fine example of song writing prowess, and the best track to check out to decide if you should pick up this release.
Overall, I've been a fan of Hades since '98/'99 and I'm proud to say this heathen is still one. So go pick up this record now(!), blast it on eleven, and burn down a church for the glory of Odin.
2 Comments
Tags: 2015, Black Metal, hades almighty, progressive metal, pyre era black