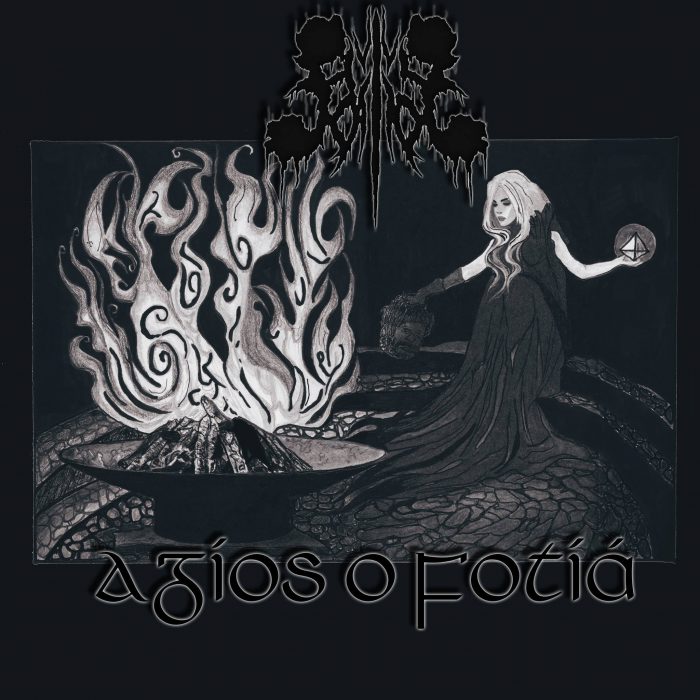 H V I L E   I   K A O S
Agios O Fotiá
2017 Era Horrificus
We are witnessing the rise of a label that, on the one hand, boasts of being led by personel experienced in different spheres of nefarious action on the ground, and that on the other, shows itself selective at both musical and ideological levels. The conjunction of these creates a unique opportunity seldom seen in the history of metal, a genre in which great artistic potential has been squandered by a lack of comprehension of what is being ultimately held in one's hands. Deathwave Nexion promises to be one of the first loci of mature metal cultivation on North American soil. We see a far-reaching influence and presence stemming from a source that appears more monstruous the more one looks into it. In its train, the opening of mainstream operations by the nexion has brought to our ears the Hvile I Kaos' first full album —a grand opening indeed.
For precise descriptions, Hvile I Kaos can be considered a chamber music ensemble, the music of which circles around the cello as the main instrument. As per classical tradition, it is indeed the wielder of the central instrument who leads the ensemble. He is as well the composer of these evocative pieces, to which the rest of these talented musicians contribute their own interpretations and idiosyncracies. The music is, to this writer's amateur ears, modernist acoustic arrangements built on popular and folk melodies, but taken to a singular level of development in composition where they escape their roots and become the means with which the artist carves forth a new path. It is tempting, and perhaps not wholy unjustified to liken this to soundtrack music, although as far as that music goes, the generalizing comment does Agios O Fotiá a great disservice. As one follows the opening 'populisms' of the music, a joyous Pagan defiance that summons Life as much as it does Death communicates the unabstracted existence of human beings in a reality that is truly beyond these illusory poles —in reality, states of being distorted by blundering mundane minds.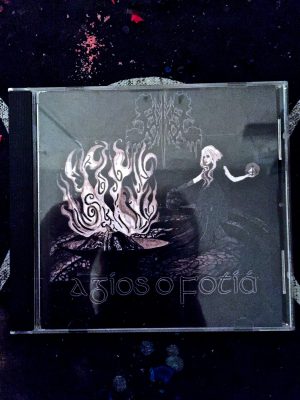 A hidden, but effective power of manifest action and the bringing about of evil, not in the form of mythology as in the olden days of underground metal when daydreams and blurry visions led the way, but of an accumulated range of experiences that condense into the sonic efluvion that acquires depth by virtue of hindsight into concrete events. While this music is somewhat derivative in terms of expression, and may artistically show an imitative character of pre-established tropes, great acumen is shown in narrative elaboration, attention to detail —not to mention an intense emotional, even psychical, connection to more than simply music: this is art that extols visceral terror. The sensation is not unlike the immediacy and premonition of survival in danger that the neophyte might feel upon repeatedly calling on Shaitan while uttering his name and beholding his sigil. This is the plain, subtle and direct elating sensation of the edge of a cold blade; the living of eternity in moments of unsurpassed focus and clarity through sheer horrific ecstasy.
While one may at the very outset be dismissive of some or all of these works, especially given their surfaces' blatant resemblance to mainstream cliches and overly-trodden figures of musical speech, the moment one engages the music thoroughly for what it has to say, the soul is carried away. More interestingly, despite any impressions words or claims might make, the character of the music —the marks it leaves on the heart— are of a humble tone. Echoes resound in the sensitive listener that become humbling to them as well, triggering introspection and self-challenge, or at least the heart's need of it. There is no pretension, but rather just a well of remembrance, of pain from life and individual circumstance. This is true not only of Hvile I Kaos, but also of other projects linked to Deathwave Nexion in one way or another, such as Decieverion and Serpent ov Old , whose music should also be perused delicately to find the grain therein. [1]
Under a thin skin, we see highlighted here as part of the underground brotherhood relations and influences that come to feed the belly of this beast. Revelry and joy, mixed with blood-letting and pain, all in the most vivid possession by unnamed deities given tribute by those who aspire to join their ranks, by those whose minds reminisce of their non-existing past beyond the stars, to which they must strive to return, unto death, beyond death. The present work hints at this evolutionary movement into and across an abyss out of sight —yet beheld just below our quivering senses, resounding at the base of our skulls— in a path the entrance to which bears the mark of Shaitan, and upon which the Initiate fervently wishes to be blessed by the apparition of the Mistress of Blood. [2]
The reader on whose ears these words find a welcome reception, will perhaps take them as a salutary note for those who need no further justification for self-overcoming. As enactment of magick, a sword of death, Hvile I Kaos' present, and hopefully its future, work has a transformative effect over those capable of raising themselves above themselves. Let its passionate music fill your heart, listener; let its muliebrial spectre haunt your wake and your dream, seeker. I for one never cease to long for its embrace.
Notes
[1] Recommended works: Decieveiron – Decieverion (2012); and Serpent ov Old – Withering Hope (2012). We must also emphatically commend the new single by Serpent ov Old in 2018, a preview of their next album to be published through Deathwave Nexion. The band has ascended through their own style to a new stage of coalesced beauty and virtuousic emotionality tempered by its dignified adoption of black metal.
[2] Baphomet – An Esoteric Signification : https://wyrdsister.wordpress.com/2018/07/13/baphomet-an-esoteric-signification/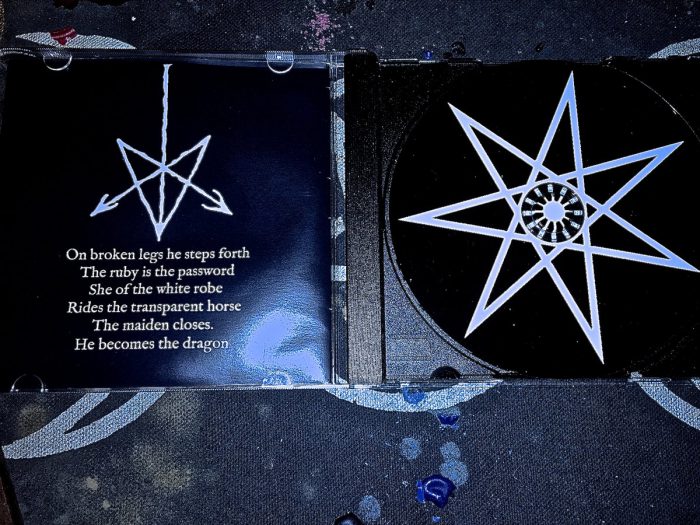 31 Comments
Tags: Agios O Fotiá, Contemporary instrumental, deathwave nexion, Hvile I Kaos