Repo Man
dir. Alex Cox
92 minutes, Criterion, $28 (Blu Ray)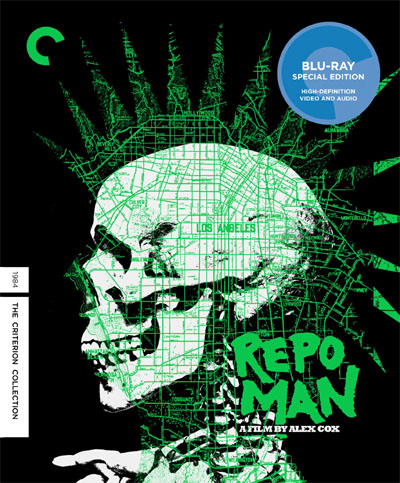 Imagine yourself in 1984. No, not the anti-totalitarian novel 1984, but the year. Ronald Reagan is president; the economy is struggling. It's uncertain whether at any minute the US and USSR will exchange nuclear weapons with one another, annihilating life on earth.
They've stopped doing the nuclear drills in schools because even the dimwitted teachers have finally realized what ICBM means. Intercontinental Ballistic Missile: it gets here so fast they won't tell you it's coming. There will be no warning, only an artificial sun eating your cities, evaporating your friends and family, obliterating your memories.
Even more, American society is in free-fall. 1968 brought a huge upheaval and now it's hippies versus people in suits every day but the hippies are more popular. The media generally takes their side; industry sides with the suits. Average people are squeezed in the middle, just trying to find food and lodging in a world that now thanks to technology demands more of them and costs more just to survive.
Those are the obvious challenges. Underneath the skin, there's a great deal of doubt. We fought wars to end wars; we got a Cold War. Society seems to be falling apart. People in general seem to lack a reason to live except a fear of poverty and death. As a result, the nervousness grows and people become more slavelike to jobs, ideologies, religions, drugs, sex, alcohol, corporations and lifestyle justifications. It's a Nietzschean feast of schadenfreude and a vast fear and trembling.
Into this mess explodes the hardcore and thrash movements. The formative elements of hardcore punk floated around in the late 1970s between Motorhead, the Sex Pistols, and thousands of nameless two-chord bands, but the genre really blew up in the early 1980s with Discharge, the Exploited, and Amebix in the UK and Black Flag, the Cro-Mags, and Minor Threat in the USA. Riding that wave came the punk rock bands, like Circle Jerks and Dead Kennedys, who offered a softer and funnier version of the same. Following as well were the thrash bands, like Suicidal Tendencies and DRI, who mixed hardcore songs with metal riffs to make short fast bursts of fury and discontent with society.
The best way to chronicle this punk scene would not be to focus on the music, because then you end with a standard rockumentary in which musicians reveal that, if articulating things were their real skill, they wouldn't be musicians. Instead they express themselves through sound, which is generally more reliable in that it's harder to cleverly re-define its root terms and subvert it. To chronicle this scene, you have to show what they see, and then play the music so that the two join in the middle.
If any movie showed hardcore for what it was, and also explained the era to those who were not aware of it, Repo Man is that movie. Like its inspiration Naked Lunch, it is a collage of nihilism and post-modern boredom, mixed with the terror of a new kind of totalitarian society based on consumer choice (more like 1984's inspiration, Brave New World). The fundamental vapidity of the people around you is what dooms you to conform yourself, or be smashed beneath the grinding wheels of the industrial apparatus. It is a paranoid, unstable time. Repo Man shows us this world through the eyes of a teenage Otto, who is an everyman of the era in that he has connected to fundamentally nothing. His parents are aliens, jobs are pointless and ruled by petty tyrants, school was a blow-out, and even his fellow punks let him down with their selfishness and lack of vision. Adrift, he wanders through the rusted mechanical ruins of L.A. until he is rescued by a mercenary-minded repossessor.
"Repossessor" was a dirty world back then, much like we might view organ harvesters now. Repo men were the people who took your car when you couldn't afford the payments, and this happened to a good number of people. It could happen in front of your friends and family, announcing to the world your failure. In a society basing itself on capitalism as a means of differentiating itself from the socialist East, this type of failure was emotionally crushing. As you can imagine, a repo man was not the sort of person anyone looked up to. Society's lepers, they fed off the scraps in the dump of society's excesses. You can imagine how for most people, a transition to repo man is like living death. But to a punk, society is already a dead man walking and existing in it is already offensively zombie-like. So what's to lose?
Otto joins the repo team with his mentor, Bud, who is outwardly selfish but ultimately more dedicated to expression of his own frustrated emotions. Together, they raid the L.A. basin for overdue car notes and in the process, encounter a prize beyond their wildest dreams — a car worth $20,000 (now probably $80k). Like the white whale in Moby-Dick, or the holy grail, this car divides people against one another and reveals what characters are really made of. In a world dedicated to self-interest, the question is whether self-interest will win out, or whether a higher (or lower) principle will be found to save the day.
Splashed throughout with energetic punk music from Suicidal Tendencies, the Circle Jerks, The Plugz, Black Flag and Iggy Pop, Repo Man brings punk culture to a wider audience by showing us the absurdity of our time and the helplessness of the characters within it, so long as they adopt its values and behave in the ways it teaches them to. Disturbing, funny, nuanced and accurate in its portrayal of a society that has lost the path to health, Repo Man will explain to you why you walk on the other side of the street from mainstream society, and suggest an esoteric path that will lead you all of the way away.
1 Comment
Tags: black flag, Hardcore Punk, iggy pop, punk rock, repo man, suicidal tendencies, the circle jerks, the plugz