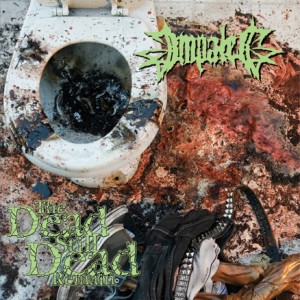 Thirteen years ago, gore-grind band Impaled released their first album, The Dead Shall Dead Remain. Since that initial pressing, the album has been unavailable to fans because of legal disputes over ownership. The only chance to hear it was to buy an original copy.
To work around that problem, Impaled have re-recorded their debut album as The Dead Still Dead Remain. This does away with legal hurdles and allows the band to improve on the performance and production of the original. Recorded and mixed by Vinnie Wojno (Testament), the new recording "simply sounds better" according to guitarist Jason Kocol.
The Dead Still Dead Remain stays musically faithful to the original and also features the return of vocalist Leon del Muerte, who says, "it was like the last thirteen years of backstabbing and spitefulness never happened!" With updated cover artwork in the spirit of the original, The Dead Still Dead Remain resurrects a long lost work of the gore-grind genre.
Impaled's The Dead Still Dead Remain can be pre-ordered at WillowTip Records.
2 Comments