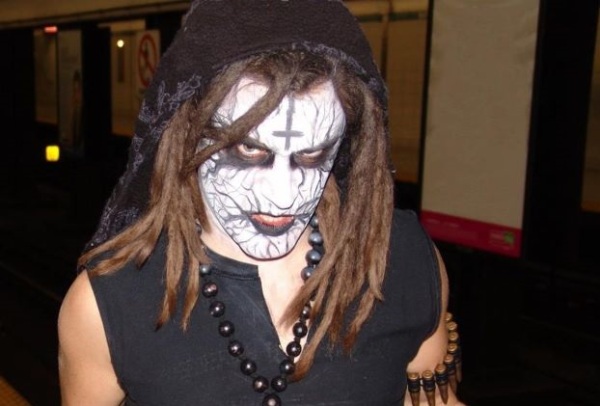 '
Currently the gaming world struggles with something called "GamerGate," which involves two groups of fans. There are those who want gaming to be more socially responsible, and those who want it to be more like 4chan.
Sound familiar? Some thing we should create the same division in metal:
Heavy metal fans have been targets for scorn and derision for decades. The metal community is supposed to be a place where misfits and outcasts can find shelter in the face of that intolerance. When you throw around bigoted slurs, whether you know it or not, you're eroding the community we're all supposed to be a part of. More importantly, you're reinforcing the prejudices of every mouth-breathing homophobe within ear or eye shot, and you're very possibly harming another human being for no reason. Keep that in mind the next time you're tempted to call someone a fa* or describe something you don't like as gay. Hopefully you'll think twice about the language you use in the future. But if you still don't care, please do everyone a favor and keep your stupid comments to yourself.
Personally, I wish to fall into neither camps. The first camp wants to offend no one and make sure that humanity all gets along so that heavy metal can be accepted by mainstream society. The second camp wants to keep us as perpetual outsiders, which is fine, but they want to do so by appealing to the lowest denominator among us. I have a problem with that, too, because it seems to me that being the opposite of a wrong thing is often to make a different version of that wrong on the level of method and not goal. Or rather, by removing an actual goal, you create a lack of goal, into which method fills the gap.
That's a subtle argument. It also takes some subtlety to understand why the offend-no-one argument is wrong. At a gut level, we are metalheads: we do not stand for speech codes, social morality and being nice to people. We specialize in saying thing as we find them and if that offends someone, too bad. We also are some of the last defenders of a way of life outside of society, where you can think what you want and say what you want and not care what other people think you should think. Someone else really nailed the biggest reason for avoiding the Nanny People: they are a lynch mob, witch hunt, high school bully, and nagging aunt all wrapped up into one, and what they do is create destruction and conformity in their wake:
A moral panic doesn't have any relation to reason. It's a mob expression of rage against an issue that threatens the social order, usually relating to the violation of some cultural taboo. There exists a long American tradition of moral panics, from Prohibition in the 1920s, to the Red Scare of the 1950s, and most egregiously the Satanic Panic of the 1980s. People were jailed and lives ruined over obviously false accusations made by children trying to please psychiatrists and other adult authority figures.
You can see there is a range of opinion about this. I pitch an unusual idea to you today: do not take a side. Do not join the Louts and do not join the Nannies. Instead, trust nature. There has always been a diversity of opinion within metal ranging from the anarchist to the totalitarian and back again. People are going to have their own opinions and they will not get along. There is no "we." Metal is a refutation of the idea that we can all get along. Trying to make us all get along will create more problems than it solves and might also foster a nasty backlash that will turn metal into a permanently alienated battleground.
123 Comments
Tags: gamergate, louts, metalgate, nanny state, sjws