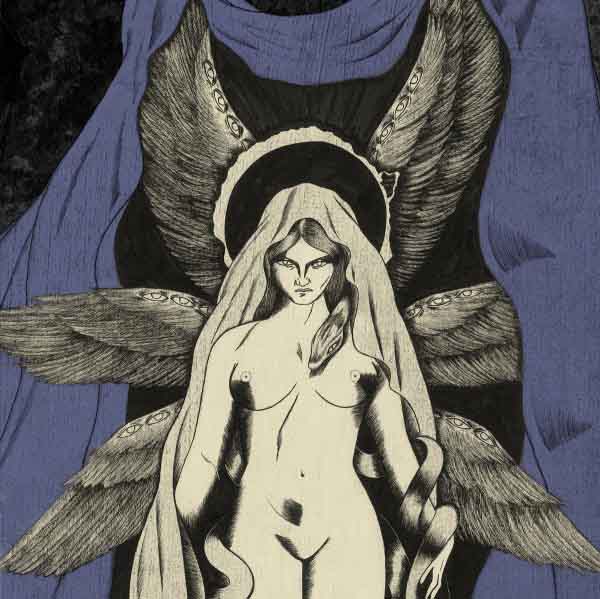 Preposterous Creations put out a split between reclusive act – – – and by their own description, long-standing but frequently interrupted American band Dawning, who re-recorded their signature song "Divine Arrival of the Massive Hoof." The result makes for interesting listening and aims to be obscure and withdrawn, which for the most part enhances the experience.
– – – are clearly aiming for the Deathspell Omega crowd, but using a more traditional heavy metal attack that might draw comparisons to Cradle of Filth and early Dimmu Borgir. However, what this band has over the art-rock crowd is that they believe in songs that still move with a sense of purpose toward clarifying a repeated rhythm and melody. This both brings them closer to rock, and away from the overly-configured aesthetic of later black metal. Most of these riffs would fit on a Fates Warning album and count as both heavy and interestingly melodic, but its melodies are a different story entirely and would be at home on a Celtic rock or world music album. The mixture of the two results in less of an oil-on-water fusion than heavy metal mixes normally do, mainly because it sticks to a solid basis of 1970s post-NWOBHM riffing technology.
Dawning brings out one track, but it's a long and epic one; this is basically funeral doom metal with a 1980s Gothic influence. I realize that all 1980s is new again since there are similar political, economic and social conditions, but "Divine Arrival of the Massive Hoof" seems like it comes by this influence honestly. The result is dragging guitars under ringing keyboards that move into riffs with a covert groove that expand into more battle-drawn riffing. From this lighter faire, it returns to the dark and accompanies it with keyboards of the Vincent Price-meets-Summoning variety. As a result, it creates a dark atmosphere with the explorative inner nature of Gothic and industrial.
34 Comments
Tags: Black Metal, dawning, funeral doom, preposterous creations