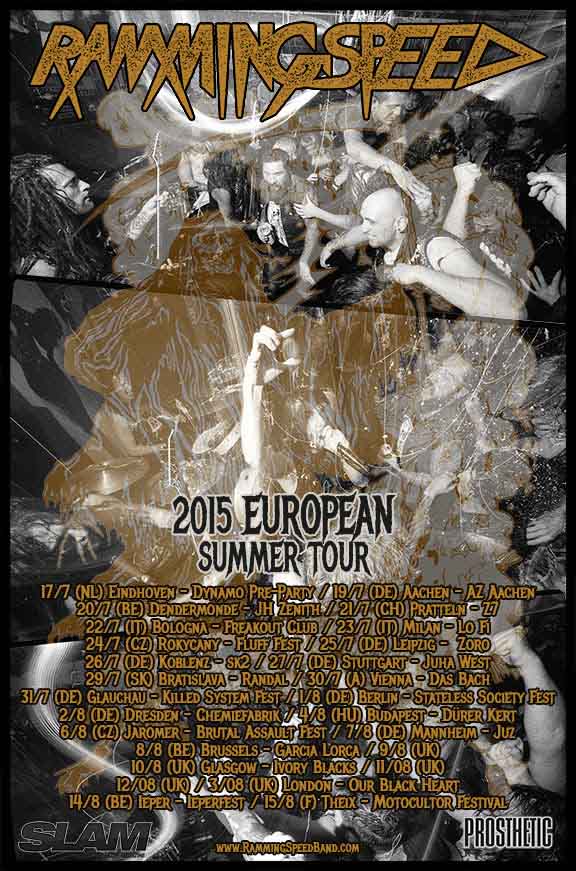 Blues hard rock band Ramming Speed have released a new song titled "Don't Let this Stay Here".
The band released the following statement regarding the new song's message:
'Don't Let This Stay Here' is our reaction to the Edward Snowden leaks that confirmed the U.S. government's saving of all our phone calls, text messages, emails and web searches in giant server farms. To us, that is fucking terrifying and unacceptable, and this is our rallying cry against it.
The citizens building the first top secret atomic bombs in Oak Ridge, Tennessee were told: 'What you see here, what you do here, what you hear here, when you leave here, let it stay here.' This song is for the NSA employees that question what they are doing. It's for the American civilians feeling betrayed by the breaches of privacy, and it's for the people at our shows singing along and sharing our frustration. Don't Let This Stay Here. Spread the word.
A list of the band's currently confirmed tour dates appears below. More shows will likely be added in the coming weeks.
7/17 Eindhoven, NL – Dynamo Metalfest Pre-Party (w/ Gama Bomb)
7/19 Aachen, DE – AZ Aachen
7/20 Dendermonde, BE – JH Zenith ^
7/21 Bleibt-Pratteln, CH – Konzertfabrik Z7 (w/ The Black Dahlia Murder)
7/22 Bologna, IT – Freakout Club (w/ 7 Seconds)
7/23 Milano, IT – Lo Fi *
7/24 Rokycany, CR – Fluff Fest
7/25 Leipzig, DE – Zoro #
7/26 Koblenz, DE – SK2 #
7/27 Stuttgart, DE – Juha West # *
7/29 Bartislava, SK – Randal Club ^
7/30 Vienna, AT – Das Bach #
7/31 Chemnitz, DE – Killed System Festival #
8/1 Berlin, DE – Stateless Society Festival *
8/2 Dresden, DE – Chemiefabrik
8/4 Budapest, HU – Dürer Kert
8/6 Jaromer, CZ – Brutal Assault Fest 2015
8/7 Mannheim, DE – Juz
8/8 Brussels, BE – Garcia Lorca
8/10 Glasgow, UK – Ivory Blacks
8/13 London, UK – The Black Heart
8/14 Leper, BE – Leperfest
8/15 Thiex, FR – Motocultor Open Air
# with Deathrite
^ with DRI
* with Toxic Holocaust
No Comments
Tags: 2015, blues, hard rock, punk, Ramming Speed, Speed Metal